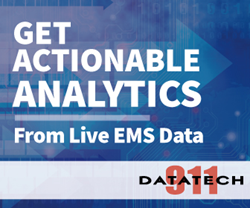 By using data from DataWatch911, such as Unit Hour Utilization, Medic has been able to improve processes and safely manage efficiency gains that have directly lowered subsidy costs received from the county.
Columbia, MD (PRWEB) December 01, 2015
DataTech911 is pleased to recognize Medic, the Mecklenburg EMS Agency, as a loyal DataWatch911 customer for 10 years. DataWatch911 has supported the agency serving the city of Charlotte and surrounding Mecklenburg County as it has become a leader in EMS service delivery.
"Medic has pushed our solutions to the greatest levels. We have grown our solution significantly over the years by adding capabilities that support Medic in achieving significant improvements in the quality of their response while supporting a commitment to their people and achieving tremendous operating results," said Michael J. Salonish, Managing Partner at DataTech911.
Positive Customer Impact
Real time data analytics, provided in the DataTech911 solution enable dispatchers to immediately understand the workload, availability and capacity of their units. Custom Unit Hour Utilization, a unique feature of DataWatch911, supports multiple areas of Medic's workload management program. Among these are real time individual analytics, performance metrics using quantitative data, workload balance for non-life-threatening calls, late call root analysis, and process change.
"By using data from DataWatch911, such as Unit Hour Utilization, Medic has been able to improve processes and safely manage efficiency gains that have directly lowered subsidy costs received from the county.", said Todd Sims, Operations Manager. "Mecklenburg EMS Agency uses DataWatch911 analytics to support its staffing, retention and attrition workload management programs. It is integral to budget and resource allocation planning."
Dynamic EMS Agency
Medic has become one of the leading EMS service agencies in the US. By combining a commitment to its people and a use of quantitative metrics, all aspects of the operations have been continuously improved. Simple one-off CAD database queries have been replaced with real-time data analytics from the DataWatch911 solution. From dispatchers and dispatch supervisors, to field personnel and field supervisors, to operations, scheduling, and public relations, the real-time information supplied by DataWatch911 is used throughout the organization, 24 hours a day.
Demand posting can put extra stress on crews if not effectively managed. With their focus on their people and their patients, Medic uses DataWatch911 to understand in the moment, how to provide the "right resource, at the right time, every time". "A 24x7 solution, DataWatch911 is part of the regular operations of the agency. It is not simply a reporting tool, its real time analytics provide actionable data we use in making critical decisions." Corinne Walser, Lead Dispatch Supervisor.
About Medic– Mecklenburg EMS Agency
Medic operates the busiest 9-1-1 Emergency Medical Services Agency in the state of North Carolina. Medic's responsibilities span 544 square miles, including the rapidly expanding city of Charlotte, NC. With two professional sporting venues, multiple college campuses, two major lakes, a busy international airport, several major business centers, two nuclear power plants, and a population approaching 1,000,000 people, bustling Mecklenburg County certainly presents Medic with a diverse, exciting environment to service.
All 530 of the Agency's employees share one singular focus: a relentless commitment to continually improving patient care. You would be hard pressed to take a drive around Mecklenburg County without passing multiple Medic ambulances. Generally speaking, Medic deploys between 20 and 50 ambulances in the county at any one time, dependent upon the time of day and historically projected call volume.
As call volume increases and teams are put into service, crews are deployed or re-deployed to increase coverage accordingly; utilizing DataWatch911's customized workload manager. The goal is to ensure system resources are deployed strategically to provide optimal coverage based on previous demand analysis to safely achieve Agency response time goals.
About DataTech911
DataTech911 is committed to building solutions that support improved efficiencies for pre-hospital care by integrating, analyzing, and unifying EMS response data.
We help first responders save lives by providing valuable tools for effective system status management and monitoring. Our advanced software provides a high level of predictive, analytical, and vital operational information to emergency officials during multi and mass casual incidents, natural disasters, potential bioterrorism threats, and more—helping first responders identify and react to medical emergencies faster than ever before.
DataTech911 solutions, comprised of DataWatch911, FirstResponse911, and StatusNet911, include advanced EMS software. All products interface directly with existing EMS and 9-1-1 systems to enhance the speed and effectiveness of emergency response. By raising the level of coordination and interoperability between multiple CADs, PSAPs, Dispatchers and all responding agencies across multiple municipalities, DataTech911 software solutions facilitate rapid, more effective EMS management and coordination.