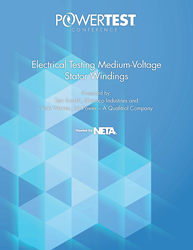 Portage, Michigan (PRWEB) November 30, 2015
Electrical power systems technicians have multiple opportunities to advance their knowledge through a comprehensive group of online courses from NETA – InterNational Electrical Testing Association. These courses are designed to help electrical power systems testing and maintenance technicians meet professional continuing education requirements.
NETA technical training available online includes:

14 NETA Self-Paced Technical Seminars (SPTS) — a collection of seminars on everything ranging from Power Transformer Testing and Maintenance and Critical Maintenance for Circuit Breakers to Electrical Testing Basics, Transformer Condition Assessment, and more
Three NETA online courses — developed by the NETA Training Committee and approved by the NETA Standards Review Council, covers specific sections of the ANSI/NETA ATS and includes use of NETA's Online Training Center, unlimited access to the course for up to one year, and a proficiency exam
Electrical Safety Training System course — state-of-the-art, multi-media training specially designed to create an interactive learning experience, particularly beneficial to those responsible for electrical safety
NETA recently updated its online training offerings with two new SPTS webinars:

Electrical Testing Medium-Voltage Stator Windings. Presented by Tom Sandri of Shermco Industries and Vicki Warren of Iris Power, a Qualitrol Company, this four-hour seminar explores stator insulation failure mechanisms, symptoms, and detection tests available in the industry today. Advantages and disadvantages of online monitoring techniques and offline tests are also reviewed.
Acceptance and Maintenance Testing for Medium-Voltage Electrical Power Cables: Exploring Technology Developments Over the Past 20 Years. Also presented by Shermco Industries' Tom Sandri, this seminar reviews the intended application of each technique — along with their advantages and limitations — providing the knowledge necessary for developing an effective cable testing program.
Every three years, Level III and Level IV NETA Technicians are required to earn 48 CTDs to maintain their certification. Technicians with certification numbers beginning with 00 and prior — as well as 03, 06, 09, and 12 — must earn 48 CTDs by December 31, 2015 to maintain their certification.
NETA offers these courses in keeping with its mission to collect and disseminate information and data of value to the electrical industry and to educate the public and end user about the merits of electrical acceptance and maintenance testing. Although these courses are not equivalent to NETA Certification of Electrical Testing Technicians, they can be a useful tool for individuals responsible for testing and maintaining electrical power equipment and systems.
Please contact the NETA office at 800-300- 6382 (NETA) for additional information on any of the NETA courses or to learn more about the CTD/CEU program.
ABOUT NETA
NETA is an ANSI Accredited Standards Developing Organization that creates and maintains standards for electrical maintenance and acceptance testing for electrical power equipment and systems, as well as a standard that addresses the certification of electrical testing technicians. NETA is an association of leading electrical testing companies comprised of visionaries committed to advancing the industry standards for power system installation and maintenance to ensure the highest level of reliability and safety.