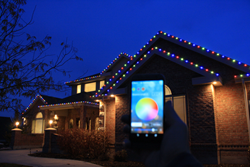 What if you could turn your lights on and off with custom colors for every occasion throughout the year – well now you can
Salt Lake City, UT (PRWEB) November 24, 2015
EverLights, the permanent home lighting solution, today unveiled its brilliant crowdfunding campaign on Kickstarter.
EverLights has created a revolutionary, smarter, safer and more affordable way to light up homes for any reason - from team colors on game-day, to patriotic colors on the 4th of July, to Christmas lights.
EverLights will forever eliminate the stress and danger of hanging exterior lights and then having to take them down again. No more ladders and no more tacky bulbs to look at when they're not on - EverLights have a stealth design that are only seen when the lights are activated.
"We all love the look of a well decorated house during the holiday season, but putting up your lights every year can be time consuming, frustrating and even dangerous." said EverLights co-founder Ross Harke. "What if you could turn your lights on and off with custom colors for every occasion throughout the year – well now you can."
EverLights patent-pending technology can be customized to any color or pattern via the EverLights mobile app. Incredibly, each individual bulb can change to more than 16 million colors and the patterns are only limited by imagination.
"EverLights was created because each of us hates going up into the attic to retrieve boxes of Christmas lights, untangling them, and getting out the ladder on a cold day to put them up, and later have our neighbors make us feel inadequate for having left them up too long," said EverLights co-founder Darren Taylor.
Permanently, easily and almost invisibly installed, that won't be noticeable by day, but at night, homes will be lit up for the rest of the street to stare at in amazement. Each set of EverLights comes with a starter kit to make installation a breeze. Other features include:

50,000 hours of life expectancy for each LED light
Affordable and energy efficient
Super bright when on, stealth when off
Look perfectly straight (no drooping)
Control every light, color and pattern from your smart phone
Safe and permanent
Weather resistant and designed for year round use
Set on and off timers
EverLights are available for pre-order with early bird specials on Kickstarter.
For more information visit http://www.myeverlights.com/