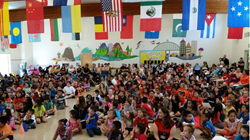 Woodmere Elementary is a shining example of teachers, parents, and community members coming together for a common cause – to support their children and share the importance of play in learning and its benefits
New York, NY (PRWEB) November 25, 2015
Woodmere Elementary School, Portland, OR is the newest recipient of an Imagination Playground and Play Associate Training (valued at over $7500) through Imagination Playground's Vote for Play program. The K-5 Public school garnered over 9,000 votes from their community, the most of any of the other thousands of schools and organizations across the United States that participated.
Woodmere serves a diverse group of students where, on a given day, approximately 18 different languages can be heard in the halls. With over 85% of the students receiving free/reduced lunch, the playground was not in their budget to purchase. That's when the Parent Group and a few teachers stepped in to organize the campaign to win the Vote for Play program.
Rene Canler, Principal at Woodmere Elementary School, singled out Graham Andanen, one of their Kindergarten teachers (who also manages their Facebook page) as a driving force behind the campaign. He began promoting the Vote for Play to the Woodmere community of teachers, parents, and supporters. The Parent Group created posters for the school's hallways, mentioned the need in the Weekly newsletter, used word of mouth, and kept up a continual messaging.
Upon receiving the news that they had been awarded the Big Blue Blocks set, Mr. Canler shared, "This was a great surprise and quite the exciting news for us! Woodmere received 9,273 audited votes…wow!"
He went on to say, "We are a community that believes. We believe our differences; our multi-language, multi-cultural traits are a benefit and through these differences, we have been able to connect. There is no doubt, it is our students, their parents, the community we serve, our teachers and staff, and our commitment to one another that create the Wonderful World of Woodmere."
Dave Krishock, President, Imagination Playground, offered his congratulations to all the participants and said, "We know the need is great. This program is one way we can try to help. There are others and we will continue to strive to bring creative play to as many children, parents, and educators, as we can."
He went on to say, "Woodmere Elementary School is a shining example of teachers, parents, and community members coming together for a common cause – to support their children and share the importance of play in learning and its benefits. We're happy we can help!"
Vote for Play is a program initiated by Imagination Playground to allow communities to vote for their favorite school or organization to bring an Imagination Playground Blue Blocks set to the children they serve. So far this year, Imagination Playground has awarded six playgrounds through the program which runs approximately 6-8 weeks.
To learn more about the Vote for Play program, visit http://www.imaginationplayground.com/vote-for-an-imagination-playground.html.
To learn more about the creative play offered by Imagination Playground or to bring a playground to your school visit, http://www.imaginationplayground.com/contact-us/index.html.
About Imagination Playground, LLC
Imagination Playground is a breakthrough play space concept developed to encourage child-directed, creative free play. The kind of play that experts say is critical to children's intellectual, social, physical and emotional development. Created by architect and designer David Rockwell and the Rockwell Group, Imagination Playground enables children to play, dream, build, and explore endless possibilities. Imagination Playground finds its home in daycare centers, kindergartens, elementary schools, children's museums—and science, nature, discovery centers, camps, community centers, children's hospitals, hotels, public parks and more—in North America and over 60 countries overseas. For more information visit http://www.imaginationplayground.com.