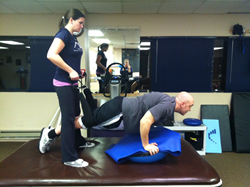 We have enjoyed sharing videos titled Push-ups for Push to Walk including staff and clients doing push-ups to raise awareness for us. The videos have received great response, which is hopefully indicative of a successful end of the year campaign
(PRWEB) November 24, 2015
Tuesday, December 1, 2015 Push to Walk will starts its year-end campaign by participating in #GivingTuesday, and mailing out thousands of letters to its supporters as part of their A Little Push Goes a Long Way campaign. #GivingTuesday began a few years ago as a national day of giving where people are asked to support charities and non-profits on the Tuesday following Thanksgiving. This primarily social media based component will act as a precursor to the mailing and email campaign.
Push to Walk's clients work hard year round to maintain their physical health and wellness and in return the non-profit sets up fundraisers and events all year to offset operating expenses. A Little Push Goes a Long Way embodies what matters most to Push to Walk: the small improvements for clients and how they can make the biggest of differences, and also the idea that small donations are meaningful and important.
This will be Push to Walk's sixth year end campaign and second year participating in #GivingTuesday with hopes of positive results. Last year the organization raised over $30,000, a record total, and hopes to surpass that amount this year. The #GivingTuesday addition to the A Little Push Goes a Long Way campaign allows the non-profit to have a bit of fun on social media while generating additional donations.
"We have enjoyed sharing videos titled Push-ups for Push to Walk including staff and clients doing push-ups to raise awareness for us. The videos have received great response, which is hopefully indicative of a successful end of the year campaign," says Cynthia Templeton, Push to Walk President.
Donation opportunities are available on the Push to Walk website: http://www.pushtowalknj.org. Checks can also be sent to Push to Walk at 6 N. Corporate Drive, Riverdale, NJ 07457. For more information, please contact Stephanie Lajam at (862) 200-5848 or slajam(at)pushtowalknj(dot)org.
About Push to Walk
Founded in 2007, Push to Walk is an organization that provides individualized workouts and resources to people with spinal cord injuries and other forms of paralysis to optimize current quality of life and to prepare for future medical advancements. It is the only program of its kind in the New York- New Jersey area. Push to Walk's rigorous one-on-one workout approach challenges clients to reach their personal goals and achieve maximum independence, leading to greater success and fulfillment in their personal and professional lives. Push to Walk is only able to cover about 65% of its operating costs through client fees, and relies on grants and fundraising events to help make up the difference. A 501(C)3 non-profit, Push to Walk is located in Riverdale, New Jersey. Visit http://www.pushtowalknj.org to learn more.