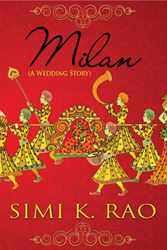 Denver, CO (PRWEB) November 25, 2015
Author Simi K. Rao takes readers on a journey behind the scenes of a traditional East Indian wedding in her latest work of fiction, a novella titled "Milan (A Wedding Story)" (http://simikrao.com).
The story focuses on a young woman name Mili whose father wants to arrange a marriage for her with an old acquaintance. But Mili is a modern woman and reluctant to plan a lifetime commitment based on East Indian traditions instead of the longings of her own heart.
"I like to use my fiction to make people in the West familiar with Southeast Asian culture," says Rao, who was born in India but immigrated to the United States when she was in her 20s. "The world is becoming smaller. The more we understand about each other, the better we can get along."
Rao, a practicing physician when she's not penning fiction, is also the author of the novels "Inconvenient Relations" and "The Accidental Wife," which explore East Indian traditions as well.
Both address issues immigrants face and feature characters who have come to the United States from India.
Rao draws on her own experiences with East Indian traditions and those of friends and family as she weaves her tales of romance, which explore the nuances of relationships.
Yvette Klobuchar, a bridal dress designer and author of "Brides Unveiled," calls "Milan (A Wedding Story)" a captivating look at "a young couple falling in love for the first time while honoring family traditions."
"Throughout the wedding planning, the bride-to-be is in a constant state of nervous excitement and total confusion that will keep you guessing until the very end," Klobuchar writes. "An absolute joy to read."
About Simi K. Rao
Simi K. Rao (http://simikrao.com/) was born in India, but has lived in the United States for
several years, working as a physician. The novella "Milan (A Wedding Story)" is her latest work of fiction. Rao is also the author of the novels "Inconvenient Relations" and "The Accidental Wife." The inspiration for her books, and other projects, comes from her own experience with cross-cultural traditions, lifestyles and familial relationships, as well as stories and anecdotes collected from friends, family and acquaintances. Rao enjoys exploring the dynamics of contemporary American culture blended with Indian customs and heritage to reflect the challenges and opportunities many Indian-American women face in real life. She lives in Denver with her family.