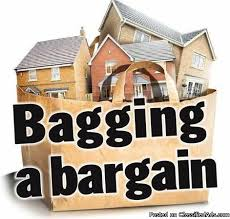 The mission is helping families in their time of need to sell quick for cash or get into a house when the bank says no.
(PRWEB) December 01, 2015
Wholesale Atlanta recently entered the Atlanta market to serve the needs of those looking to buy houses in Atlanta for steep discounts. Company officials reported that these people may have a variety of goals in mind:

The biggest demand is from rehabbers looking for a discount steep enough for them to "fix and flip" the house to a retail buyer, typically in a working class neighborhood.
Potential landlords are also looking for good real estate deals, although they don't have as much tolerance for fix-up as do the rehabbers.
These houses are ideal for home buyers looking for a good retail sales price who have the cash, but may not qualify for a conventional loan.
Whatever the need, Wholesale Atlanta is now available to provide a steady stream of steeply discounted houses. As the company likes to put it "we buy houses fast for cash".
It's no secret that bank lending standards have become more and more rigorous in recent years. This shows up in hard-to-achieve job stability, collateral requirements, interest rates, the 20% down payment, and more. Hard pressed buyers are struggling for solutions, but typically don't know where to look. The more resourceful have turned to strategies like:
Owner financing in which the owner carries back the mortgage for the buyer.
Cashing in low-interest bank accounts that typically yield 1% or lower.
Buying their residence from an investor for a nice discount off the retail price.
For example, Wholesale Atlanta might obtain a home with an After Repair Value (ARV) of $100,000 by taking over an existing $50,000 mortgage. They might then offer a seller-carry owner financing deal to a buyer for $95,000 purchase price with $15,000 down and $800 monthly payment.
Best known in Atlanta by the moniker on their newsletter -- Wholesale Atlanta -- the company invites anyone to explore the education in real estate they provide. "When we saw how people were being bullied by their banks and misled by greedy investors," said company owner Dennis Oliver Woods, "we set up a bundle of resources so people could explore the options on their own to buy houses in Atlanta."
That included not only the newsletter, but a website designed specifically for the individual homeowner needing to sell quick for cash and another one for people looking to buy houses in Atlanta. The goal is to match one with the other. "All part of the package, we buy houses fast for cash," said Woods, "you can have your cake and eat it too."
As they launched their new online presence Woods soon realized the need for real estate education was not enough. Some homeowners facing foreclosure or any other financial difficulty needed to sell quick for cash. "We could better meet their needs by giving homeowners not only real estate education," he said, "but apprising them that we buy houses fast for cash." Wholesale Atlanta also runs an educational program for those interested in a more in-depth approach to real estate investing.
Wholesale Atlanta has the financial resources and specialized teams in place to meet the demands of any housing / financial situation. The mission is helping families in their time of need to sell quick for cash or get into a house when the bank says no.
Contact:
Dennis Oliver Woods, Team Leader
Wholesale Atlanta
http://www.RealEstateCoaching.us
Atlanta, Georgia
888-747-5595