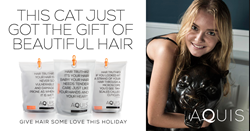 I discovered something life-changing: that how you dry your hair is one of the absolute most critical factors in keeping it strong and healthy
San Francisco, California (PRWEB) November 25, 2015
The Wrap, a new hair and beauty destination dedicated to minimalist beauty, launched today online. Sponsored by Aquis, makers of cult-favorite high-tech, quick-drying hair towels and turbans, the online magazine's mission is to provide readers with simpler, saner, science-backed beauty advice and inspiration.
Launching with a focus on hair health, the Wrap's initial editorial calendar includes a mix of interviews with expert sources not typically quoted in mainstream beauty publications. These include a cosmetic chemist who specializes in beauty myth-busting and a team of Purdue engineers studying the effects of heat on hair. Stories such as 7 Science-Backed Hair-Washing Rules to Live By live side by side with features on real women's hair and beauty journeys, such as "How These Southern Girls Learned to 'Listen to Their Hair."
The goal, says Aquis founder and editorial director Britta Cox, is to be a voice of reason in the beauty industry and to acknowledge that, when it comes to beauty, there's no such thing as one-size-fits-all advice. She launched the publication because she believes that while a woman's beauty routine must be personalized, it shouldn't be complicated.
"Through my research developing Aquis hair towels, I discovered something life-changing: that how you dry your hair is one of the absolute most critical factors in keeping it strong and healthy. It's so simple, but has such a positive effect on the way hair."Now, with the launch of The Wrap, we'll continue seeking out the world's best experts to keep uncovering these hair and beauty truths"
Initially, The Wrap will primarily focus on healthy hair tips and advice, but will grow and expand in the coming months, Cox says. The core mission and tagline, "because beauty shouldn't be complicated," will stay the same.
"When it comes to beauty, I strongly believe in the joy of doing less. So our goal is to bring women the best possible hair and beauty information, and let them decide what resonates for themselves," says Cox.
About Aquis:
Aquis hair towels are made from ultra-fine Aquitex super absorbent fibers, a uniquely woven water-wicking fabric that's scientifically proven to dry hair quickly without damaging it. Hair is most vulnerable when wet, and Aquis saves fragile strands from daily damage caused by blasts of heat, rough cotton towels and breakdown of keratin bonds. For more information and hair truths, go to Aquis.com.