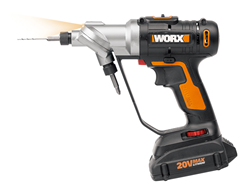 Charlotte, N.C. (PRWEB) November 24, 2015
This holiday season, skip the cologne, blender and the plaid pajamas and wrap up a cool new WORX tool gift. Choose from the innovative Switchdriver™, the handy SD SemiAutomatic Driver with Screw Holder, the 20V Turbine Blower, or Zip Snip™, the versatile power cutter that's more effective than scissors.
The two basic functions of a cordless drill are drilling holes and driving screws. But what if a drill could perform either task at the push of a button? That's just what the WORX engineers had in mind when they developed the new WORX 20V MaxLithium Switchdriver.
This hybrid cordless drill features two ¼ in. chucks that rotate 180º clockwise or counterclockwise with the push of a button. Drill a pilot hole to seat a screw, and then rotate the second chuck with a driver bit to sink it. The bits stay loaded in their respective chucks, so it's easy to switch back and forth. The ¼ in. chucks accept any ¼ in. hex-shaped bits, which are widely available at hardware stores and home centers.
Switchdriver is great for installing shelves, picture hangers, mini- or horizontal blinds, curtain rods, door sets and hinges, cabinet or bathroom hardware, as well as carpentry jobs.
One big advantage of drilling pilot holes before driving screws is that the screw goes in easier and straighter. It also helps prevent the workpiece from splitting or cracking. Pilot holes also reduce bit slippage and wear, which can lead to stripped screw heads.
Switchdriver includes two, 1.5 Ah MaxLithium batteries, a charger, carrying bag and two drill bits (1/8 in., 3/32 in.) and one, #2 Phillips bit and a 5 hour charger. The tool is covered by the WORX 3-year warranty. WORX 20V Switchdriver (WX176L, $119.99) is at http://www.worx.com and other online retailers including Lowe's and Amazon.
The popular WORX SD SemiAutomatic Driver has a new feature that sets it apart from other drive tools on the market. It's a Screw Holder attachment that sets and levels screws for driving. There's no need to steady screws because, once a screw is loaded into the Screw Holder's jaws, it is secured until it's drilled flush to the surface. The Screw Holder also is handy when backing out screws.
What separates the SD SemiAutomatic Driver from other drive tools is its six slot revolving chamber that rotates screw-driving bits in and out as selected. Shift from slotted to Phillips or square recess without ever touching the bit.
Inside the tool's body is a rotating circular cartridge that holds six, 1-in., hex-shanked bits. Slide back the magazine (cover) to advance a bit into the chamber, and then slide the cover forward and it's ready to drive screws. Each bit is loaded into the cartridge, so storage or lost bits are never an issue.
The WORX SD SemiAutomatic Driver with Screw Holder is powered by a 4V Lithium-ion built-in battery. The plug-in charger brings the driver to a full charge in 5 hours.
The kit includes the SemiAutomatic Driver with Screw Holder attachment, one bit cartridge, six screwdriving bits: Phillips #1, #2; slotted #4, #6, and square recess #1, #2, screw holder and 5-hour charger. The WORX SD SemiAutomatic Driver with Screw Holder (WX255L, $39.99) is available at http://www.worx.com and Amazon.
The new WORX® AIR 20V MaxLithium™ TURBINE Blower features a powerful axial fan motor design that pulls air directly into the fan and forces it out through the blower tube, creating a uninterrupted air flow stream. Its combined cfm and mph ratings make it more than four times more powerful than previous WORX cordless blowers.
WORX AIR 20V MaxLithium TURBINE Blower blasts grass clippings, dust, dirt and other debris off surfaces including driveways, lawns, sidewalks, walkways, patios and decks. It's also a time-saver when it comes to cleaning out the garage or keeping entryways into the house clear of dust and dirt.
Compact and lightweight, this (5.7 lbs.) cordless blower is designed to move air freely across its axial fan to a maximum velocity of 340 cubic feet-per-minute (cfm). Its two-speed control provides a light-duty option when working in sensitive planted areas and \ high speed to clear debris out of the way.
The blower's air speed reaches up to 90 mph. It's powered by a 20V 2.0 Ah MaxLithium battery.
The turbine blower is covered by the WORX 3-year warranty. WORX AIR 20V MaxLithium TURBINE Blower (WG546, $99) is available at Walmart, Amazon and http://www.worx.com
The WORX ZipSnip is powered version of conventional scissors. This lightweight, compact cutter has a 1-1/2 in. diameter blade that's powered by a built-in 4V lithium-ion
battery. ZipSnip cuts through leather, cloth metal screen, cardboard and the tough clear plastic that's used in packaging products.
The handy cutting tool features a soft grip handle and lock-off switch for safety. ZipSnip has a variable-speed motor that spins the self-sharpening blade up to 260 rpm. The tool includes a spindle lock for fast blade changes. The cutter's plug-in charger brings it to a full charge in 3-5 hours.
WORX ZipSnip (WX081L, $34.99) is covered by the WORX three year warranty. It's available at Menards and online at Home Depot, and Amazon.
# # #
Reach out to WORX social media links, visit: Facebook: https://www.facebook.com/worxus?ref=hl; Twitter: https://twitter.com/WORXTools