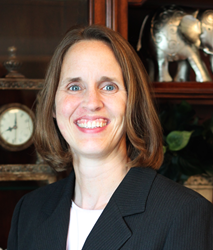 It's a privilege to be with a company that creates unique strategies for each client.
Plymouth, MI (PRWEB) November 24, 2015
In her new role at AMDG Financial, Becky Stroud will be focused on helping clients achieve their life and financial goals by providing holistic advice with a "client-first" perspective. Stroud, a St. Louis native, recently became a CFA charterholder and Registered Investment Adviser, and is excited to put her skills to work on behalf of clients.
"It's a privilege to be with a company that creates unique strategies for each client," said Stroud. "I believe in AMDG Financial's wealth management approach and values, and I enjoy the team environment."
"Over the years, Becky has worked hard to deepen her knowledge of investments and learn key strategies to help clients improve their financial positions," said Wayne Titus, CPA/PFS, AIFA®, founding member of AMDG Financial. "We're proud to welcome Becky back to the firm and look forward to working with her as she begins this new phase in her career."
In addition to her CFA credential, Stroud holds a Bachelor of Science degree in Business Administration (with focus on economics and finance) from the University of Tennessee at Martin, and an MBA from the University of Missouri. Stroud resides in St. Louis and will work remotely with clients.
Founded in 2002, Michigan-based AMDG Financial focuses on providing clients financial advice and wealth management expertise at a fiduciary standard of care, which means that the firm must place the interests of the client ahead its own, or that of its advisers. A fee-only practice, AMDG Financial accepts compensation directly from its clients, rather than through commissions or payments from third parties.
About AMDG Financial
AMDG Financial (http://www.amdgservices.com) is a fee-only fiduciary registered investment adviser (RIA) in Plymouth, Michigan. The firm manages approximately $90 million in assets for clients. AMDG Financial was one of the first 10 firms globally to be certified by the Centre for Fiduciary Excellence (http://www.cefex.org/advisor) as following global best practices for investment adviser fiduciaries. The company's credo is, "From financial wisdom, better stewardship."