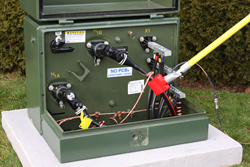 Kent, WA (PRWEB) December 14, 2015
Techimp® Group has acquired Cablewise® on-line condition assessment services from Novinium® Inc. This transaction is part of a new alliance between the two companies to enhance the service offering to their customers and focus on activities where they enjoy global leadership positions: cable life extension for Novinium and partial discharge monitoring for Techimp.
The Cablewise business is active in the area of on-line partial discharge (PD) testing of power cables. It was founded in 1998 as one of the first companies providing on-line power cable diagnostic testing services in North America. Cablewise testing operates in North America and Germany with licensees in Korea, South Africa, Australia, and UAE. The acquisition of the Cablewise brand is a major step in Techimp's objective to strengthen its presence in North America and Germany and expand its global on-line cable testing offering.
Novinium will continue to offer on-line PD testing. The alliance will improve Novinium's diagnostic product and service offerings by tapping Techimp's deep technical expertise. The divestiture of Cablewise testing to Techimp allows Novinium to focus its R&D efforts on cable life-extension technology, where Novinium enjoys global leadership. Novinium intends to extend that leadership with new product and service initiatives.
"The alliance between Techimp and Novinium is extremely beneficial as it optimizes the expertise of each organization," said Glen Bertini, Novinium's president and chief executive officer. "This transaction enables Novinium to focus on new innovation as well as our continued development in cable rejuvenation and other infrastructure life-extension technologies."
Kurt Hakansson, chief executive officer of Techimp, announced, "This transaction was a logical step for Techimp as a global leader in condition monitoring technologies. This has significantly strengthened our service offering in North America and Germany and allows us to serve our customers better in those key markets.
About Techimp:
Techimp is a high tech company founded in Italy 16 years ago as a spinoff from the electrical research center at University of Bologna. Today it is a global leader in the field of condition assessment and monitoring covering all major electrical assets including high- and medium-voltage cables, transformers, generators and switch gears. It provides equipment & services to major utilities, OEMs, industrial, and oil and gas customers from its offices in Italy, UK, USA, Brazil, Argentina, Austria, and China. It has been selected to monitor high profile events such as the Super Bowl, and the London and Beijing Olympics. Further information is available at http://www.techimp.com.
About Novinium:
Novinium's patented injection process rejuvenates and extends the reliable life of cable up to 40 years. Founded on 28 years of industry experience by the inventors of cable rejuvenation, Novinium's technology solutions address circuit owners' infrastructure problems at a fraction of the cost of existing methods, and save energy and natural resources by eliminating the need for additional production of copper and polymers for new cables. Headquartered in suburban Seattle, the privately held company is the recognized technology leader in cable rejuvenation and was honored as one of Seattle's 2013 Best Places to Work. Further information is available at http://www.novinium.com.