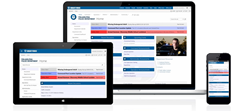 Investment helps transform public safety organizations.
Greenwood Village, Colorado (PRWEB) December 02, 2015
The Optimas Group, LLC and Adventos™, announce today their new partnership to grow the Agency Management System market in the U.S. and worldwide.
Managing Partner for Optimas, Doug R. Wilwerding commented, "Optimas is happy to announce our strategic investment with Mariano and his team at Adventos. SmartForce™ is changing the way public safety organizations serve their communities by creating more efficient departments and increasing safety within communities. We are excited to be a part of this new transformation in public safety organizations across the country."
The category leading Agency Management System from Adventos™ is called SmartForce™. SmartForce™ is the first CJIS compliant and mobile agency management system designed to account for uncommitted patrol time and to drive current policing strategies. SmartForce™ also provides a single platform for integrating and automating all law enforcement administrative processes outside of CAD and RMS.
Adventos™ CEO, Mariano Delle Donne views the new partnership with much excitement. "Having Optimas as a strategic investor propels our growth since they bring much expertise in public safety strategy and management and a track record of success. We share common beliefs in helping transform public safety to work efficiently and effectively."
For demonstrations of the SmartForce™ Agency Management System and the many applications designed to automate administrative processes, provide secure collaboration of criminal intelligence, and connect community organizations to law enforcement, please call or e-mail Cliff Micham at 252-378-1594, cliff.micham(at)adventos.com.