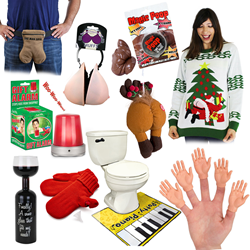 If it can make coworkers crack up and grandparents gasp, it's on the Top 10 Stupid Gag Gifts of 2015.
Los Angeles, CA (PRWEB) December 03, 2015
It's wacky, bizarre, and most of all, really stupid. It's the 9th annual list of the Top 10 Most Stupid Gifts of the Year, compiled by online novelty superstore Stupid.com.
Every year, Stupid.com searches the world for the most ridiculous stocking stuffers and funny christmas gifts in the hopes of eliciting laughter and shock. If it can make coworkers crack up and grandparents gasp, there's a good chance it made this year's list of best gag gift ideas.
Here is the list of the Top 10 Stupid Gifts of 2015 listed in no particular order:
Farting Reindeer Butt Ornament -
This musical decoration toots out classic holiday carols as it elegantly hangs from any tree. Did anyone hear that buck snort?
The Butt Crack Santa Sweater -
This goofy garment features jolly old St. Nick delivering gifts and showing off his rosy red holiday rump, which is exactly why Santa is best left unseen.
The Man Sack -
Protect the valuables by going balls-to-the-wall wild with this testicular shaped fanny pack for men that holds everything except, well, the family jewels themselves.
The Wine Bottle Glass -
This giant glass is the perfect size to hold an entire bottle of wine, and a great way to maintain a festive buzz during extended holiday gatherings.
Boob Ear Muffs -
A pair of bust-shaped earmuffs isn't great for silencing your uncle's dirty Christmas jokes. They are, however, the breast way to keep warm all winter long.
Magic Poop -
What exactly makes this brown, pliable ball of putty doody so magical? Just ask your unsuspecting friends after they've fallen for a pretty gross prank.
The Potty Piano -
It's bathroom Beethoven with this clever keyboard that fits snugly around the toilet. Just use feet to hit the keys, and add some jingle to any tinkle
Mitten Flask -
This cozy set of knit gloves, which feature a secret spigot and a pouch for your favorite beverage, are a great place to store some holiday cheer.
Finger Hands -
Get a little hands-y at your office holiday party by wearing these freaky little soft vinyl finger puppets in the shape of a tiny hand. High twenty-fives!
The Gift Siren -
Put this miniature alarm on any gift to stop snoopers with a motion-detecting siren that senses sneakers up to 4 feet away.
All these gifts and more can be purchased at online Stupid.com.
About Stupid.com
Stupid.com has been spreading laughs one gift at a time since it burst onto the online retail scene in 1998. From great gag gifts to silly stocking stuffers, the company offers a diverse selection of over 4,000 products in 120 gift categories.