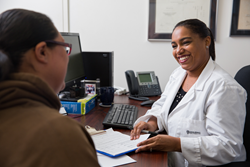 Our program has been developed by experts in online teaching, learning, and nursing
Oakland, California (PRWEB) November 27, 2015
Samuel Merritt University's School of Nursing, one of California's largest and most prestigious nursing-education institutions, will launch a new online degree program for case managers, who now rank among the highest in-demand professionals in healthcare.
For the first time, students in California can earn a graduate degree in 16 months through online courses developed and taught by SMU faculty. Applicants are required to hold a baccalaureate degree in nursing from an accredited U.S. college or university and have current RN licensure.
The innovative program was approved by the WASC Senior College and University Commission (WSCUC). SMU, a leader in case management education since 1997, joins an elite but growing number of distinguished higher education institutions that now provide graduate degrees entirely online to meet the growing needs for professional healthcare experts.
"Our program has been developed by experts in online teaching, learning, and nursing," said Arlene Sargent, EdD, RN, Associate Dean of Nursing. "The technology and curriculum we've created will make the digital classroom just as invigorating as the experience inside the SMU classroom on campus."
The launch of the online CM program comes at a time when the services offered by case managers are being used more than ever. Case managers serve as patient advocates, helping clients maneuver the healthcare system. As a new emphasis in the U.S. healthcare system has been placed on care coordination for the client in all settings, from hospital to home, case managers improve the quality of care for clients and reduce inefficiencies in service delivery. Case manager graduates will be prepared to practice in a variety of settings including hospitals, clinics, physician groups, disease management programs and insurance companies.
In 2013, the National Hospital Case Management Survey showed a 25 percent increase in full-time CM job requests, and the Centers for Medicare and Medicaid Services reported a 26.7 percent growth in Accountable Care Organizations facilities across the country, where case managers are often employed.
Who: Samuel Merritt University's School of Nursing
What: New, entirely online case management degree program for California students
When: Application due date is Nov. 30, 2015
Where: https://www.samuelmerritt.edu/nursing/cm_nursing_online
Samuel Merritt University, located in Oakland, California, has been educating health science practitioners who are committed to making a positive difference in diverse communities since 1909. Nearly 1,500 students are enrolled at SMU, with campuses in Oakland, Sacramento, and San Mateo. The University offers an undergraduate degree in nursing; master's degrees in nursing, occupational therapy, and physician assistant; and doctoral degrees in nursing, physical therapy and podiatric medicine. For more information visit http://www.samuelmerritt.edu.