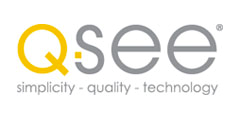 Anaheim, CA (PRWEB) November 27, 2015
Q-See, a leading provider of high-definition surveillance materials, is pleased to release details for their Black Friday and Cyber Monday promotions.
The promotions, which offer up to 35% off of standard retail pricing, are valid on many of Q-See's best top of the line bundles. Highlighted in the promotion are:

Q-See BNC HD 8 Channel Security System, offering Eight 1080p high resolution cameras and 2TB hard drive
Q-See BNC HD 16 Channel Security System, offering 16 1080p high resolution cameras with 2TB hard drive
Q-See 8 Channel IP HD Security System, offering four 3MP cameras and four 1080p PTZ cameras with 3TB hard drive
Q-See 16 Camera IP HD Security System, offering eight 4MP cameras and ONE 1080p PTZ camera with 4TB hard drive
Q-See 32 Channel IPHD Security System, with 24 4MP high resolution cameras with 10TB hard drive
Q-See 32 Channel IPHD Security System, with 16 4MP bullet cameras, seven 3MP dome cameras, four 3MP dome cameras with audio, five 1080p PTZ cameras, and 10 TB hard drive capacity
These products include excellent IP and BNC HD products and represent incredible values, including a Q-See first: 1080p BNC HD camera and DVR combo. Unlike many typical Black Friday and Cyber Monday promotions, these products represent current high-end products instead of older lines or manufacturers' discounts.
Shoppers are able to quickly and easily identify products included in the promotion by visiting Q-See's "Deals" section online.
About Q-See
Q-See is the forward-thinking solution for those who value performance and efficiency without ever sacrificing the user experience. Q-See aims to support consumers and business owners by empowering them to focus on living their lives, because we believe safety is a right for all.
We provide easy-to-use smart surveillance solutions that feature cutting edge technology and enhance the lifestyles of those who use them. Q-See sets industry standards, constantly evolving alongside the ever-changing connected technology landscape. To anyone who wants true peace of mind, Q-See is the smart security brand that provides sleek, user-friendly, and innovative security - because your surveillance system should not only fit, but enhance your lifestyle. Q-See surveillance solutions are widely available through leading online and storefront retail channels as well as a growing base of international distributors. To learn more about Q-See and its products, please visit http://www.Q-See.com.