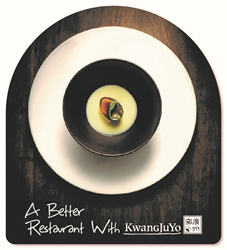 Dishware holds the first impression of food and leaves behind a lasting impression… KwangJuYo will help your business grow into a better restaurant.
(PRWEB) November 25, 2015
-The world-premium restaurant ware KwangJuYo is favored by Michelin 3-star Chefs Thomas Keller, Corey Lee and others
-A distinctive mark of premiership in the Korean culinary industry, KwangJuYo products are offered at a substantial discount during the promotion period.
Korea's renowned ceramic ware brand KwangJuYo is hosting 'A Better Restaurant Project,' an international restaurant ware promotion, at the company's online shopping mall created for overseas customers, from November 20 to December 30.
KwangJuYo has developed a line of ceramic ware in collaboration with world-renowned Chefs Thomas Keller, Corey Lee and Judy Joo and supplied its kitchenware to The French Laundry, Per Se, Benu and other Michelin 3-star restaurants. PIORA, the popular New York fusion restaurant that has recently earned a Michelin star, also uses KwangJuYo products.
Having satisfied the discerning tastes and standards of some of world-famous chefs, KwangJuYo plans to be more aggressive in marketing and thus help expand the overseas market share of traditional Korean ceramic ware.
The name, 'A Better Restaurant Project,' signifies the message that use of KwangJuYo products, made of all natural materials and with a traditional handcraft method, as restaurant ware enhances the value as well as improves the image of restaurants. Targeting the hotel and restaurant industries, the sales event is the first of its kind promoting a traditional ceramic ware brand as restaurant ware.
Supplying kitchenware to Korea's top-class hotels and restaurants, KwangJuYo enjoys such a high reputation for the quality and value of its product that the Blue House uses KwangJuYo products in its state dinners.
CEO Cho Tae-kwan of KwangJuYo said, "Customers who enjoy gourmet dishes value not only the quality of the food but also the overall ambiance, and the dishware is what holds the first impression of food and leaves behind a lasting impression," adding "The sales promotion is our response to overseas restaurant industries' growing recognition of KwangJuYo's quality and mounting interest in using our products as restaurant ware."
Through its online shopping mall created exclusively for overseas customers, the first and only one in the domestic ceramic ware industry, KwangJuYo makes it easy and convenient for global customers to purchase and enjoy the superior quality of its products. A special discount coupon comes with every purchase of KwangJuYo products during the promotional period, which makes for all the more smart buy opportunity as the company is slated to launch winter and Christmas sales events.
KwangJuYo also plans to recruit international tableware consultants and develop diverse lines of products targeting overseas customers. Details of product purchase and consultant recruitment are available at the company's online shopping mall (http://www.en.ekwangjuyo.com).