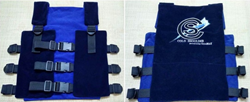 ...we are providing people with a convenient and effective way to burn calories at a time when they otherwise would not, such as sitting down watching TV, at your computer or on the road
Irvine, CA (PRWEB) November 24, 2015
Cold Shoulder, LLC launched their Pro Vest, the latest version of their widely popular weight loss vests, on Kickstarter last week and hit their goal of $20,000 in under 10 hours.
The campaign, which will continue to run through Saturday, December 19th, aims to bring the new PRO Weight Loss Vest to the market.
The PRO Vest provides consumers with a less expensive, one-size fits all comfort option, powered by patented CryoMax Gel Ice, allowing for longer lasting cold coverage.
CryoMax Gel Ice is a patented, American made, high-tech food grade gel, allowing up to eight hours of cold coverage and giving users wearing the PRO Vest the potential to burn almost double the calories of the previous Classic vest, which was estimated to burn up to 500 calories a day when worn twice daily.
"We are taking our vests to the next level with the use of CryoMax Gel Ice," said Cold Shoulder Vest Inventor and NASA Scientist Dr. Wayne B. Hayes." "It is the latest advancement in cold technology for Thermogenesis and we have secured this leading technology exclusively for the benefit of our customers."
The design utilizes thermogenesis, a proven scientific method of calorie burning fueled by mild cold exposure. The ice from the vest lowers one's body temperature safely, which in turn signals it to burn more calories in order to stay at its ideal core temperature.
Currently the campaign has raised closed to $43,000 and continues to grow daily.
"I am not surprised by the numbers we are seeing with this campaign," said Dr. Hayes. "Our vests have proven to work tremoundously in the past and we are providing people with a convenient and effective way to burn calories at a time when they otherwise would not, such as sitting down watching TV, at your computer or on the road."
From their desk at the office to their couch at home, wearers can don their vests anywhere and at any time.
Cold Shoulder LLC is owned and operated by the husband and wife team of Dr. Wayne B. Hayes and Jocelyn Hayes. In 2015, they launched their first design, the Classic, and raised over $280K in 30 days from people in 37 countries. By harnessing the power of thermogenesis to burn extra calories, they are helping countless people around the world reach their weight loss goals safely and effectively.
For samples or additional information, please visit http://www.coldshouldervest.com, their Kickstarter Campaign or contact Nicki(at)veteranpr(dot)com.
About Veteran PR:
Rooted in the belief that hard work coupled with honesty and integrity is the key to any success, Veteran PR strives to help companies build their brand awareness through strategic and effective Public Relations Campaigns and Social Media Marketing Efforts. Veteran PR launched in 2015 after military veteran, Staff Sergeant Jason Thomas, teamed up with his wife and seasoned PR professional, Nicki Thomas. Together their vision is to help small businesses, especially veteran owned businesses, build their brand awareness with a PR Company business owners can trust.