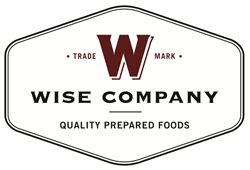 Salt Lake City, UT (PRWEB) November 27, 2015
Wise Company announces huge discounts for Black Friday and Cyber Monday this year. The discounts range in value from 20–50% off of standard retail pricing.
Wise Company's promotions go live on WiseFoodStorage.com today at 10 a.m. (MST). The promotion will feature four food storage packages that are new and have not been previously available.
In addition to the new food packs, other items of interest included in the holiday promotions include:

2-Gallon WiseFire Bucket (50% off): This product is an effective fire starter that can safely boil 120 cups of water without the use of harmful chemicals or vapors.
120-Serving Freeze-Dried Vegetable Bucket (50% off): Individual servings of vegetables that can be paired with accompanying cream, butter, cheese, and mushroom sauces.
120-Serving Freeze-Dried Fruit Bucket (50% off): Individual servings of freeze-dried fruit paired with long-term yogurt, pudding, and caramel sauces offer a tasty treat that is also high in calorie count and nutritional value.
Prepper Pack Emergency Food Supply (40% off): Includes four entrees, two breakfasts and two beverages for a total of 52 servings. Enough to feed one person for one week at 3 servings per day.
60-Serving Grab-n-Go Bucket (40% off): Perfect for quick planning, this mix and match kit provides two servings a day for a month for a single adult, or two servings a day for a week for a family of four adults.
Auto Kit (24% off): Pack it and travel worry free over the holidays or any time of year. This necessity kit includes portions of food and water as well as jumper cables.
5-Day Survival Pack (20% off): Give the gift of preparedness with this "prepped for anything" kit. Packaged in a camouflaged backpack, this kit provides a complete emergency survival kit for one adult for five full days.
Customers will be able to easily find discounted items as all promotional items will be highlighted on the website. No promotional code will be needed to secure the discount pricing.
All Black Friday and Cyber Monday promotional items are available in limited supply, and orders will be filled on a first come first served basis. Individual buying limits may be imposed to allow multiple customers the opportunity to benefit from discounts.
About Wise Company
Wise Company, based out of Salt Lake City, Utah, is a leading provider of high-quality, long-term food kits, emergency food kits, dehydrated or freeze-dried food items for camping, long-term-storage or emergency purposes. Many of the company's prepared foods can last for up to 25 years and Wise Company's products have been featured on a number of television channels, including The Weather Channel, the Outdoor Channel and the American Heroes Channel (formerly the Military Channel). For more information please visit http://www.wisefoodstorage.com.