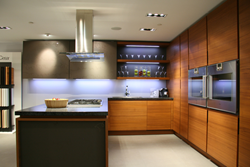 teenage celebrity chef Gibson Borelli will give a cooking demonstration at the event
Englewood, NJ (PRWEB) November 25, 2015
Modiani Kitchens, the Englewood, NJ kitchen design and kitchen remodeling company, is set to host an event for Women's Rights Information Center in their Englewood, NJ, showroom December 1, 2015.
The event, which is titled "Women, Wine, and Chocolate," is part of the Women's Rights Information Center's #GivingTuesday series. Women, Wine, and Chocolate is the center's third annual event in the series.
This installment of #GivingTuesday will feature wine and chocolate tastings, tea and cocktail pairings, cupcake decorating, hors d'oeuvres, desserts, raffles, and entertainment. Of note, teenage celebrity chef Gibson Borelli will give a cooking demonstration at the event. Borelli is a 12-and-a-half-year-old chef from Hoboken, NJ, who is the winner of Food Network's Rachel vs. Guy Kids Cook-Off (Season 2, September 2014).
The event will take place December 1, 2015, in Modiani's NJ Kitchen Showroom from 5:30 pm to 8:30 pm. Admission is $25 per person in advance or $30 at the door.
The Women's Rights Information Center is dedicated to helping women in transition gain career, life, and resource-buildings kill that can change the direction of their economic futures for the better. Modiani Kitchens is a kitchen design company based in Englewood, NJ, specializing in traditional kitchen design as well as modern European kitchen design.