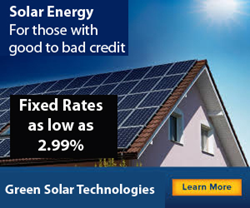 Turn sunshine into saving!
Los Angeles, California (PRWEB) December 02, 2015
Green Solar Technologies has found a way to successfully provide financing to many unlikely customers. Green Solar Technologies has partnered up with several top leading banks to offer unsecured loans for terms reaching up to 20 years with low interest terms.
These unique solar loan types allow both residential and commercial customers to have more time to pay off their solar panel loans and make low monthly payments to free up cash for other immediate needs. "Homeowners should not have to pay thousands of dollars each month when they can pay as little as a few hundred dollars instead over a long term" says Nicki Zvik, president of Green Solar Technologies.
The company offers several unique loan types. More specifically, they now offer a Split Loan option to its customers. A split loan occurs when a customer defers a portion of their tax credit for the solar panel installation for a one year period and at the same time receives a long term loan (i.e. a 12 year term) with a low interest rate (as low as 2.99%) for the duration of the loan period. The company has a solar panel installation program where a customer can put zero down and make low monthly payments for up to 20 years.
The company was awarded the Foundation Finance Award for excellence in the financing of regional customer installations. Foundation Finance selected the organization as one of its elite partners for the fiscal quarter, citing the company's ability to finance more customers than its peers. The sheer volume of financing, coupled with 5 star Yelp reviews, has catapulted Green Solar Technologies to the upper echelon of the rapidly growing market.
Unlike other solar panel companies, they do not shut the door on customers with bad or mediocre credit. They have partnered up with banks to offer loans to its customers through a standardized pace program. "This program is somewhat new but continues to grow every day because financing is crucial to the future of the solar panel industry," says Nicki Zvik.
Besides good financing, the company is known for other highly rated attributes. The company installs solar panels to customers in many states – not just California. They now have offices in Orange County and Riverside. Each month they continue to expand their territories. They plan to add ten more locations by the end of 2016. The company works with only the leading solar panel manufacturers including Solarworld, Enphase, Solaredge and many others. Green Solar Technologies is definitely a company you want to check out today.