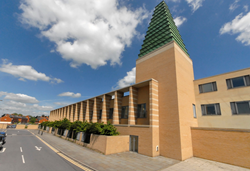 we offer insights into the unique characteristics of supply chains in emerging markets and outline the issues for businesses to consider
Oxford, Oxfordshire (PRWEB UK) 24 November 2015
A leading industry advisor on supply chain management, Wojciech Piotrowicz who has helped to inform the EU's transport policy, along with Richard Cuthbertson, both from Oxford Saïd, have identified the major barriers to efficient and effective supply chain management in emerging markets and offer insights which many organisations will find valuable in the current climate. They highlight the need for a greater understanding of the business environment and the growing complexities and costs associated with it.
Wojciech says: 'Operating in developing countries involves a high degree of uncertainty. While most businesses extending their supply chains into emerging markets appreciate that there will be significant differences from developed markets, many lack detailed information on the specific challenges they are likely to face. Here we offer insights into the unique characteristics of supply chains in emerging markets and outline the issues for businesses to consider. The risks associated with operations in emerging markets have the potential to impact the whole of the supply chain so it is critical that organisations are as informed as possible as they plan their operations, especially today when we can witness increasingly volatile changes in the business environment in Europe and beyond.'
A new book 'Supply Chain Design and Management for Emerging Markets',
edited by Wojciech and Richard, helps organisations navigate through the differences between markets, emphasising the key issues that should be considered when extending supply chains to developing markets.
The analysis will help organisations identify the barriers they can remove or reduce, what areas they can control and those which they need to mitigate for. The authors differentiate between 'hard' factors which are relatively easy to identify and quantify (such as geographical environment, measurement, productivity and IT), to soft, intangible and difficult to quantify barriers (such as human resources and policies).
Among the authors' recommendations for firms:
1. Do not assume that all emerging markets are the same, they are not, even though
there are commonalities across different groups of countries.
2. Understand the local social, economic and political context and monitor it constantly and look at the whole region, including countries across the border, which can influence the target country.
3. Long term planning might not work in an unstable environment and organisations should have economic environment risk mitigation strategies in place.
4. Building personal trust and informal relations is important in the absence of
strong institutions.
5. Define policies concerning how to deal with possible corruption and unethical behaviour.
6. Think about the exit strategy, if the environment becomes too unstable.
7. Anticipate bureaucracy and delays.
8. Training is important in both emerged and emerging countries, however lack of
skills and knowledge could be more visible in developing markets, be ready to
provide additional support in this area.
'Doing business in developing countries requires different strategic approaches and understanding supply chain barriers and limitation is necessary to improve the efficiency of supply chains. Despite the increasing importance of developing countries, much of our previous understanding of supply chains has related to research in developed markets. This new work offers fresh perspectives on emerging markets specifically. Despite the risks, emerging markets offer significant opportunities for many companies and the insights we outline here will help firms prepare to capitalise upon them' said Wojciech.
For more information or to speak to Wojciech please contact the press office:
Jonaid Jilani, Press Officer, Saïd Business School
Mobile: +44 (0)7860 259996; Tel: +44 (0)1865 614678,
Email: jonaid.jilani(at)sbs.ox.ac.uk or pressoffice(at)sbs.ox.ac.uk
Kate Richards, Press Officer, Saïd Business School
Mobile: +44 (0)7711 000521; Tel: +44 (0)1865 288879
Email: Kate.richards(at)sbs.ox.ac.uk or pressoffice(at)sbs.ox.ac.uk
Notes to editors
1. About Wojciech Piotrowicz and Richard Cuthbertson
Wojciech Piotrowicz is a Research Fellow and a member of the Faculty of Management, University of Oxford, and a member of the Oxford Institute of Retail Management (OXIRM) at Saїd Business School. Wojciech is an expert on supply chain management, information technology and performance measurement, including sustainability-related indicators, especially in the retail and emerging market context
http://www.sbs.ox.ac.uk/community/people/wojciech-piotrowicz
Richard Cuthbertson is a Senior Research Fellow and Research Director at the Oxford Institute of Retail Management at Saïd Business School, University of Oxford. He is a leading expert in the development of consumer-facing companies and the convergence of online and in-store retailing.
http://www.sbs.ox.ac.uk/community/people/richard-cuthbertson
2. About the book
Eleven chapters, written by experts with a deep local knowledge present the current state of supply chain development or supply chain solutions specific to Africa, Asia, Eastern Europe and Southern America. These include challenging case studies but also success stories from various industries such as automotive, food, apparel, retail and others.
Link to Book abstract
http://link.springer.com/book/10.1007/978-3-319-05765-1
3. About the Oxford Institute of Retail Management
The Oxford Institute of Retail Management, a research centre of Saïd Business School, combines industry knowledge with analytical rigour and objectivity.
Established in 1985, the Institute has worked for nearly 30 years to relate sound scholarship to the practical needs of retailers, service companies and public sector agencies.
Members of the Institute run executive education programmes, carry out research with direct relevance to academics, practitioners and policy-makers, and contribute to building a world-wide network of experts in retailing.
The Institute's teaching and research is undertaken at national, European and international scales.
http://www.sbs.ox.ac.uk/faculty-research/oxirm
4. About Saïd Business School
Saïd Business School at the University of Oxford blends the best of new and old. We are a vibrant and innovative business school, but yet deeply embedded in an 800 year old world-class university. We create programmes and ideas that have global impact. We educate people for successful business careers, and as a community seek to tackle world-scale problems. We deliver cutting-edge programmes and ground-breaking research that transform individuals, organisations, business practice, and society. We seek to be a world-class business school community, embedded in a world-class University, tackling world-scale problems.
In the Financial Times European Business School ranking (Dec 2014) Oxford Saïd is ranked 10th. It is ranked 10th worldwide in the FT's combined ranking of Executive Education programmes (May 2015) and 22nd in the world in the FT ranking of MBA programmes (Jan 2015). The MBA is ranked 7th in Businessweek's full time MBA ranking outside the USA (Nov 2014) and is ranked 5th among the top non-US Business Schools by Forbes magazine (Sep 2013). The Executive MBA is ranked 2nd worldwide in the Economist's Executive MBA ranking (Sep 2015) and 9th worldwide in the FT's ranking of EMBAs (Oct 2015). The Oxford MSc in Financial Economics is ranked 14th in the world in the FT ranking of Masters in Finance programmes (Jun 2015). In the UK university league tables it is ranked first of all UK universities for undergraduate business and management in The Guardian (Jun 2015) and 2nd in The Times (Sept 2015). For more information, see http://www.sbs.ox.ac.uk/
ENDS