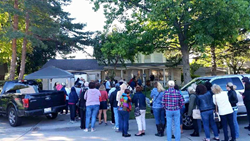 Aaron's Estate Sales is redefining the estate sale industry, offering a quality of service second to none and selling out entire estates across the Metro-Detroit area
Clinton Twp. Michigan (PRWEB) November 24, 2015
Aaron's Estate Sales is pleased to announce that they are holding a spectacular estate sale on Black Friday. After many years of success in the estate sale business, Aaron, owner of Aaron's Estate Sales, began utilizing this day as a way to give bargain hunters another avenue for deals on the biggest shopping day of the year. With unparalleled success on Black Friday in 2012, 2013 and 2014 Aaron is convinced the clients that are able to schedule their sale the day after Thanksgiving are more profitable due to lack of competition and an increase in holiday shoppers.
This year, Aaron hopes to show both clients needing estate sales and customers alike that regardless of the season or the holiday, estate sales are always profitable. At this sale, shoppers will find a massive collection of items collected over the span of 70 years. Estate sale goers believe that unique rare finds are more intriguing gifts than store bought items. This is something that Aaron believes himself and is hoping will catch on with the general public. "Whether it's new or used items at less than retail price or rare and unusual antiques and collectibles, there is always a deal to be found."
This estate sale will be held in Clinton Twp. Michigan Friday November 27th through 29th and will be open from 10am to 4pm daily. If you are interested in attending the sale, The address is 16116 Anstell court Clinton Township, MI 48038 please visit estatesales.net for pictures of the items that will be available.
About Aaron's Estate Sales
Aaron's Estate Sales is a Detroit-based estate sale company that began in 2008. With a mission of always focusing on the needs of the client, the company has enjoyed 6 years of service and is always committed educating the public on the estate sale process while shedding light on how positive the experience can be for the clients.
For more information, please visit http://www.aaronsestatesales.com or our Facebook page.