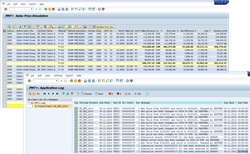 BrightPrice Manager comes with a simulation module, allowing you to see the impact of changes
Eindhoven, the Netherlands (PRWEB) November 26, 2015
SPOSEA announces the immediate availability of BrightPrice Manager, enabling SAP customers to rapidly perform Mass Pricing Maintenance
Sposea BV, an innovative and leading developer in the pricing optimization product market, announces the immediate availability of BrightPrice Manager for SAP.
BrightPrice Manager builds upon the proven SAP environment by making it easier and faster to maintain prices across the SAP landscape. Today too many resources are involved in maintaining prices, there is hardly no governance in the process, there are issues with custom development and most tools available are too expensive to justify easy and fast price maintenance in SAP, UNTIL NOW.
Brightprice Manager provides an out of the box solution which gives the SAP customer a powerful solution for maintaining prices in a controlled environment. BrightPrice Manager is SPOSEA's second solution to make price optimization and mass price maintenance more affordable and more effective. With BrighPrice Manager you can easily define projects and control price conditions, while having internal control for permitted users. Our governance capabilities give you full control over the mass pricing maintenance cycle, prices can be approved or rejected and we also allow for manual adjustments, if required and allowed.
BrightPrice Manager delivers a powerful Mass Pricing Maintenance tool, flexible simulation as well as detailed recommendations based on actionable operational reports. It's available through on-premises or on-demand delivery, so you don't need to be running SAP systems to use it. With on-demand delivery, you provide the data, we will deliver the insight.
To obtain a free trial or more information on SPOSEA, please visit us at http://www.sposea.com or info(at)sposea(dot)com
About SPOSEA B.V. Driving profitability via real-time, dynamic pricing optimization. Enabling the SAP ecosystem with end to end customer engagement and behavioral insights, increased sales through optimized prices. With its family of products, BrightPrice Optimizer, BrightPrice Manager and BrightAct, SPOSEA provides its customers with out of the box solutions for effectively manage Pricing in SAP, and understanding of customer behavior using content and customer engagement analytics.
Sposea B.V., headquartered in Eindhoven, the Netherlands, and offices in Menlo Park, California and Walldorf, Germany.