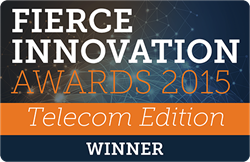 We are honored to be winners of a Fierce Innovation Award in recognition of MultiConnect™ Conduit™, a LoRaWAN based gateway enabling the rapid expansion of connected devices.
Mounds View, MN (PRWEB) November 24, 2015
Multi-Tech Systems, Inc., a leading global manufacturer of M2M and IoT devices announced today that it has been recognized by this year's Fierce Innovation Awards: Telecom Edition, a unique industry awards program powered by the publishers of FierceWireless, FierceTelecom and FierceCable. MultiTech received top honors in the "Cell Sites" category.
Winners were selected by an exclusive panel of judges which included: Jeff Cologna, Strategic Partnerships, U.S. Cellular Product & Innovation; Andrew Ip, Senior Vice President of Optimum Labs, Cablevision System Corporation; Dan Murphy, Director, Verizon Innovation Program; Mattias Fridström, Vice President & Head of Technology, TeliaSonera International Carrier; Robert Howald, Vice President of Network Architecture, Comcast; Ron Marquardt, Ph.D., Vice President of Technology, Innovation & Architecture, Sprint; David A. Mayo, Senior Vice President of Technology, T-Mobile USA; and Michael Weston, Senior Executive, Verizon.
Judges evaluated submissions based on technology innovation, financial impact, market validation, ability to integrate into existing network environments, and end-user customer experience.
"We are honored to be winners of a Fierce Innovation Award in recognition of MultiConnect™ Conduit™, a LoRaWAN based gateway enabling the rapid expansion of connected devices," said Stefan Lindvall, CEO of MultiTech. "The industry is rapidly taking note of its power and innovation and we are grateful to garner additional acknowledgment from such a cadre of qualified judges."
MultiConnect Conduit is the industry's most configurable, manageable, and scalable communications gateway and is ideal for numerous market segments including, Agricultural, Industrial, Smart Cities, and Medical. Quick to deploy and easy to use, the Conduit gateway has the ability to manage thousands of MultiConnect mDot™ long range RF modules and other sensors and transmit their data over any cellular network to a customer's preferred data management platform. mDots are inexpensive radios using the new Semtech LoRaWAN™, low power, wide area RF modulation. mDots bring intelligence and reduced complexity to the very edge of the network by running ARM® mbed™ platform on a low power ARM® Cortex®-M series processor.
About FierceMarkets
FierceMarkets, a division of Questex, LLC, is a leader in B2B e-media, providing information and marketing services in the telecommunications, life sciences, healthcare and technology industries through its portfolio of email newsletters, websites, webinars and live events. Every business day, FierceMarkets' wide array of digital publications reaches more than 2 million executives in more than 100 countries.
Current publications include: Telecom: FierceWireless; FierceCable; FierceDeveloper; FierceOnlineVideo; FierceTelecom; FierceWirelessTech; FierceWireless:Europe /TelecomsEMEA, FierceInstaller; Smart Grid News; and Telecom Asia; Healthcare: FierceEMR; FierceHealthcare; FierceHealthFinance; FierceHealthIT; FierceHealthPayer; FierceHealthPayerAntiFraud; FierceMobileHealthcare; FiercePracticeManagement and Hospital Impact; Life Sciences: FierceAnimalHealth; FierceBiotech; FierceBiotechIT; FierceBiotechResearch; FierceCRO; FierceDiagnostics, FierceDrugDelivery; FierceMedicalDevices; FiercePharma; FiercePharmaAsia; FiercePharmaMarketing; FiercePharmaManufacturing; and FierceVaccines; Technology: FierceBigData; FierceCIO; FierceCities; FierceContentManagement; FierceDevOps; FierceEnterpriseCommunications; FierceFinanceIT; FierceGovernmentIT; FierceITSecurity; FierceMobileIT; FierceCMO; and FierceRetail.
About MultiTech
MultiTech has been expanding the connected world by delivering industry-leading communications technology platforms for over 40 years. Offering an extensive line of fully certified and carrier-approved gateways, routers, modems and embedded components, MultiTech works with thousands of customers worldwide to easily enable cellular, analog, Wi-Fi®, Bluetooth® , LoRa®, GPS/GNSS, and other M2M communication capabilities for their IoT applications. For more information, please visit http://www.multitech.com.
Contacts:
MultiTech
Jennifer Costello; MG Communications
Tel: 781-715-4870; Jennifer(at)mgresults(dot)com