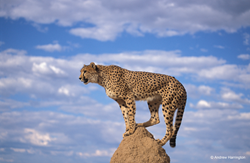 The cheetah is one of the oldest of the big cat species and unfortunately, it is also the most endangered big cat in Africa.
Washington, D.C. (PRWEB) November 25, 2015
Cheetah Conservation Fund (CCF) invites wildlife lovers from all over the globe to celebrate the world's fastest feline on December 4, International Cheetah Day. This year marks the fifth anniversary of this special occasion designed to generate awareness for the cheetah, which, with fewer than 10,000 remaining in the wild, is sadly Africa's most endangered big cat. International Cheetah Day aims to educate young learners about the species, its plight, and inspire people of all ages to get involved with conservation efforts.
"The cheetah is really the most iconic, coolest cat of all," said Dr. Laurie Marker, Founder and Executive Director of Cheetah Conservation Fund. "You could say that I'm partial, but I can't imagine a world without cheetahs. Please help us save this species by posting to social media on December 4th using the hashtags #IntlCheetahDay and #SaveTheCheetah."
CCF is encouraging zoos and schools around the world to help spark young people's interest in conservation by recognizing International Cheetah Day with cheetah-themed activities and classroom lessons. Cheetah teaching and outreach materials, including a downloadable activities packet designed for elementary schoolchildren and a PowerPoint presentation with notes, can be accessed through CCF's Web sites, http://www.cheetah.org and http://www.internationalcheetahday.org. Cheetah photos, videos and social media links are also available online, as well suggestions for ways to celebrate.
At CCF's Field Research and Education Centre in Namibia -- open to the public 364 days a year – Dr. Marker is hosting a daylong, cheetah-centric celebration. Food and drink will be available at the Cheetah Café, and cheetah games, activities and crafts will entertain visitors. All ages are invited to tour the facilities, including a one-of-a-kind Cheetah Museum, and witness the daily feeding of the 35 orphaned or injured cheetahs that permanently reside in CCF's Cheetah Sanctuary.
With more than 40 years experience working with the species, Dr. Marker is widely recognized as a leading expert on the cheetah. She designated Dec. 4 as International Cheetah Day in remembrance of Khayam, a cheetah she raised from a cub at Wildlife Safari in Winston, Oregon. Dr. Marker was inspired to take Khayam to Namibia to determine if captive-born cheetahs could be taught to hunt. Their efforts were successful and eventually, the pair returned to Oregon. But during this experience, Dr. Marker witnessed wild cheetahs being exterminated by African farmers and vowed to do something about it. In 1990, she launched CCF and permanently relocated to Namibia. Because of Khayam, Dr. Marker dedicated her life to becoming the cheetah's champion, and she chose Khayam's birthday for this honor.
The cheetah is not only the fastest, but it is also the oldest of all the big cats. It has survived more than three million years through the Ice Age and a genetic bottleneck, but its numbers have declined by 90 percent in the last 100 years due to human-wildlife conflict and habitat loss. With fewer than 10,000 remaining in the wild, the world's cheetah population is at great risk of extinction.
"International Cheetah Day serves to remind us that the cheetah, like all wildlife, is a treasure of our planet. Wildlife enhances our landscapes and can support livelihoods when utilized in a sustainable manner," said Dr. Marker. "When a species becomes extinct, you cannot bring it back, and everyone loses. The good news is cheetahs can be saved, and young people are the key to their future."