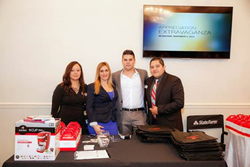 "I am so proud to be part of this community. This event is just one way to help all the fantastic businesses in my area and connect them with each other."
Arlington Heights, Illinois (PRWEB) November 25, 2015
Guillermo Chavez-Angeles is a new State Farm Insurance agent and an Elk Grove Village entrepreneur. To celebrate his new agency, show his appreciation for his community and support of other local businesses, Chavez-Angeles hosted a networking extravaganza.
"I am so proud to be part of this community," says Guillermo Chavez-Angeles. "This event is just one way to help all the fantastic businesses in my area and connect them with each other."
The event allowed like-minded individuals to form new relationships while enjoying great food. It also gave Chavez-Angeles the opportunity to announce his new scholarship at William Rainey Harper College in support of the Latino Summit. The college, located in Palatine, Illinois, holds this annual summit for Latino teens. It focuses on the importance of sticking with school and going for higher education. Chavez-Angeles attended Harper and gained the education he needed to boost his chances for success – and to help open doors for others.
Helping others and inspiring young entrepreneurs is part of Chavez-Angeles' mission. He firmly believes that the more good people put out into the world, the more that not only comes back to them, but the world becomes a better place overall. He is looking forward to many more events like this in the years to come.
About the Guillermo Chavez-Angeles State Farm Insurance Agency
Since 2014 the Guillermo Chavez-Angeles State Farm Insurance Agency has been providing their customers with the right insurance coverage and financial stability for every stage of their lives. Chavez-Angeles is a member of the National Association of Hispanic Real Estate Professionals (NAHREP), an organization dedicated to helping Hispanic families achieve the dream of home ownership in a sustainable way that empowers future generations. Find out more about his agency here or call the office at 847-734-0400. The agency helps English, Spanish, Hindi, Punjabi and Urdu speakers.
# # #