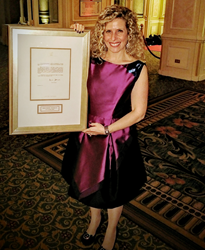 I offer my congratulation to us all on redefining what success looks like and showing that women entrepreneurs are a force to be reckoned with!
Toronto, Ontario (PRWEB) November 24, 2015
PTPA Media is proud to announce that its Founder and CEO Sharon Vinderine has been named the recipient of the RBC Canadian Women Entrepreneur Awards in the Micro-Business category. Presented by Women of Influence, Sharon was chosen based on her outstanding accomplishments in the entrepreneurial world with her digital marketing and awards company PTPA Media. The prestigious awards recognize the leading female entrepreneurs who have made substantial contributions to the local, Canadian, or the global economy.
Alicia Skalin, Co-CEO and Head of Events and Programming, Women of Influence Inc., praised the winners for their dedication and drive, and for paving the way for future generations of female entrepreneurs.
"We are honoured to recognize the contributions of women entrepreneurs in Canada, helping to inspire new generations of innovators and leaders," explained Ms. Skalin.
Sharon Vinderine was one of six different award winners celebrated at this year's awards gala on November 26, following a record-breaking 5,000 nominees from across the country. The Micro-Business Award honours a female entrepreneur & company that proves small businesses can still have great impact, innovation, momentum and more.
"I am truly honored to be amongst these amazing and accomplished winning entrepreneurs. They are an inspiring collection of some of the best and brightest that Canada has to offer and I'm even more proud of the fact that we are all women. I offer my congratulation to us all on redefining what success looks like and showing that women entrepreneurs are a force to be reckoned with," said Sharon Vinderine.
Today, PTPA Media continues to develop engaging and unique digital marketing services for both entrepreneurs and large scale businesses. During her previous entrepreneurial venture, The Kangaroo Towel, Sharon found that there was a lack of marketing solutions for start-up companies with small budgets. Specifically, there were no affordable award programs that also had a built-in testing, feedback, and marketing component to push her product to households around the world. And so, PTPA Media was born as the solution to Sharon's entrepreneurial dilemma.
Sharon and PTPA Media have managed hundreds of marketing campaigns for top brand names such as Gerber, Sears, Verizon, The Harlem Globetrotters and Kobo. They offer varying services across social media, television, and other digital platforms to market award-winning products to families.
"We're constantly innovating and trying new things here at PTPA Headquarters, you have to stay one step ahead of the marketing trends," says Sharon.
The ultimate goal for Sharon Vinderine and PTPA Media? To continue to create engaging, exciting, and results-driven campaigns for small and large businesses alike.
"It's been a whirlwind of a year at PTPA and the Micro-Business Award is the perfect way to end it," says Sharon.
ABOUT PTPA MEDIA
PTPA Media is the marketing and communications arm of Parent Tested Parent Approved™. We are a digital agency focused on Parental Advocacy, Community Building and Digital Communications.
We are a collective of strategic minds, project managers, digital marketers, storytellers, parenting experts, community managers and above all – we are parents, who are passionate about engaging with other parents and putting your products in their hands. For more information, visit http://www.ptpamedia.com
ABOUT THE RBC CANADIAN WOMEN ENTREPRENEUR AWARDS
The 2015 RBC Canadian Women Entrepreneur Awards are presented by RBC and sponsors Deloitte, TELUS, The Printing House and PROFIT Magazine and are the pre-eminent national business awards recognizing the country's leading female entrepreneurs. Now in its 23rd year, award recipients are selected based on a variety of criteria including, but not limited to, level of innovation, profitability and community impact. For more information, please visit: http://www.womenofinfluence.ca/rbc-cwea
For a complete list of this year's award winners, visit womenofinfluence.ca/rbc-cwea
ABOUT WOMEN OF INFLUENCE
Women of Influence Inc. is North America's leading organization dedicated to the advancement of women. It produces and hosts the renowned Deloitte Women of Influence Luncheon Series and the Top 25 Women of Influence, in addition to the publishing the Women of Influence magazine. Women of Influence has a community and reach of 120,000 across North America including Vancouver, Calgary, Toronto, Waterloo, Ottawa, Montreal, New York City, Washington, DC, London, and Hong Kong. For more information, please visit: http://www.womenofinfluence.ca.