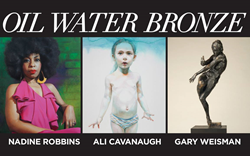 "It is a supreme honor to open this show during Art Basel week with artists of Robbins, Cavanaugh and Weisman's caliber."
Hallandale Beach, Florida (PRWEB) November 25, 2015
Miami Art Scene™ announces the highly anticipated Opening of OIL WATER BRONZE at Sirona Fine Art on Friday, December 4, 2015 from 6-9pm featuring Nadine Robbins, Ali Cavanaugh, and Gary Weisman. Three separate masters in three separate media come together for the season's most distinguished exhibition with an opening reception on the evening of Dec.4th during South Florida's prestigious Art Basel Miami Beach.
Nadine Robbins renders perfectly realized portraiture in meticulous, richly layered oils. Rejecting the traditionally "staged" portrait, Robbins prefers to convey life, emotion, authenticity, and often humor in her subjects. Her portraits garner attention from both critics and collectors – Huffington Post art critic, John Seed, chose Mrs. McDonald as one of his 'Ten Memorable Paintings for 2013', praising the "sultry mood and unique beauty" of the image. Several of Robbins' portraits are part of the prestigious Tullman Collection in Chicago, including Double Gulp, a recent portrait of renowned collector Howard Tullman.
Ali Cavanaugh, painting on panels rather than paper, has long pushed the medium of watercolor to emulate finely detailed oil paintings. Her new works utilize the inherent spontaneity of that medium to inject new, flowing life into her sensitive figures. Cavanaugh's work is extolled in the Huffington Post, Fine Art Connoisseur, Hi-Fructose and in numerous print publications including The New York Times Magazine, American Art Collector, American Artist Watercolor. She has painted portraits for TIME magazine and The New York Times. Her work is featured in more than 400 private and corporate collections throughout North America, Europe, Asia, and Australia.
Gary Weisman is one of the finest figurative sculptors in the world, combining the consummate mastery of his predecessors from the classic Greek to Rodin to Brancussi, with a wholly contemporary presentation of the body captured in bronze. This exhibit displays over 30 works of profound strength and absolute grace. Weisman has participated in group exhibitions since 1987, and from 1989 has had countless solo exhibitions. He is the recipient of various awards and commissions, represented in collections across the United States with works included in a wide array of prestigious public and private collections.
"It is a supreme honor to open this show during Art Basel week with artists of Robbins, Cavanaugh and Weisman's caliber. With one of the art world's most important events just down the road in Miami, Sirona presents their own concurrent event of exceptional aesthetic excellence. In truth, 'Oil Water Bronze' is three large solo shows opening on the same evening rather than a group show", explained Timothy Smith, Gallery Director of Sirona Fine Art.
"Oil Water Bronze" runs from December 4, 2015 through January 4, 2016 at Sirona Fine Art – a grand showcase for artists who embrace classic academic structure and technique, yet have an understanding and facility within the modernist landscape in which their work is viewed. Located in The Village at Gulfstream Park at 600 Silks Run #1240 in Hallandale Beach, Florida 33009. RSVP for the Opening Reception: info@sironafineart.com. See and learn more at http://www.sironafineart.com or call (954)454-9494. For media inquiries, to schedule an interview or receive additional information, please contact: Kat Wagner, editor@themiamiartscene.com / (786)571-6112.