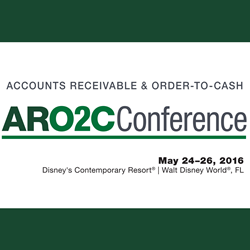 Nowhere else can these professionals come together to network with their peers, learn key best practices and metrics, and understand the technologies available to help streamline their processes
Portland, ME (PRWEB) November 24, 2015
The Accounts Receivable Network (TARN) has announced the dates and location for its new event, the Accounts Receivable & Order-to-Cash Conference (AR & O2C Conference). Replacing TARN's Order-to-Cash Summit, the AR & O2C Conference, taking place May 24-26, 2016 at Disney's Contemporary Resort, will be a gathering place for Accounts Receivable and Order-to-Cash professionals across the country to share best practices, network with their peers and learn about the latest automation solutions.
The three-day conference will kick off on Tuesday, May 24 with workshops and certification classes, followed by an opening keynote and executive panel. Workshops and certifications are an additional fee; pricing may be found at http://www.iofm.com/ar-conference/register. The opening keynote and panel discussion are open to all registered conference attendees. Day one will conclude with a cocktail reception in the exhibit hall.
Conference sessions will take place through May 26th. Attendees will have the benefit of attending over 30 sessions in a variety of topics, including: best practices for reducing DSO, effective management practices, AR benchmarks, building shared services, detecting and avoiding fraud, and more.
Session presenters include key AR & O2C innovators from organizations such as: Levi Strauss & Co.; Rolls-Royce plc; Xerox Business Services, LLC; Vulcan Materials Company; Graphic Packaging International, Inc.; Verifone; Genpact; PwC; and many more.
"We're looking forward to welcoming hundreds of this country's best and brightest AR & O2C professionals to Disney this May," said Brian Cuthbert, Executive Director of The AR Network. "This is the only event dedicated exclusively to AR & O2C in the US; nowhere else can these professionals come together to network with their peers, learn key best practices and metrics, and understand the technologies available to help streamline their processes."
A second networking reception will take place on the evening of Wednesday, May 25 in the exhibit hall. During the receptions attendees will network with other finance professionals, meet with solution providers, experience live demos, and take part in other fun giveaways and activities planned.
For more information or to register, go to http://www.iofm.com/ar-conference or contact The AR Network at 207-842-5557. Discounted lodging at the nearby Grand Floridian Resort will be available soon via the conference website.
About The Accounts Receivable Network (TARN)
The AR Network (TARN) is the community for Accounts Receivable, Order to Cash and Financial Shared Services practitioners. The AR Network supports its members' success through the sharing of best practices, tools, expertise and peer-to-peer engagement. Members of The AR Network have access to critical information, technological solutions, and management strategies that will help you optimize receivable processes, maximize ROI and evaluate and implement the latest technologies. Learn more at http://www.theaccountsreceivablenetwork.com.