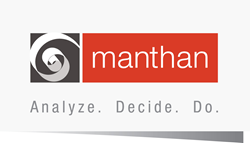 Manthan's outstanding showing includes two #1s, five #2s and six #3s in the prestigious top-10 lists
Palo Alto, CA (PRWEB) November 24, 2015
Manthan, the global leader in Retail and CPG Analytics, wins top ranks in the prestigious RIS Software Leaderboard 2015, the annual ranking of retail technology providers by the retailers themselves. This year close to 300 retailers voted for almost 100 vendors across 50 categories.
Manthan has been voted as the number one vendor for Tier 1 retailers across categories. Also, it is recognized as a leader in ease of installation and integration, performance and reliability by tier one and mid-sized retailers.
"Manthan has turned in a stellar performance in the 2015 RIS Software LeaderBoard by appearing in 24 of the report's 51 charts including #5 in the Top 20 Master List. Its outstanding showing includes two #1s, five #2s and six #3s in the prestigious top-10 lists," said Joe Skorupa, Editorial Director, RIS announcing the rankings.
Manthan, with its widest and most comprehensive suite of analytics products for retail, is recognized as the leader among pure play analytics vendors. The company has been focusing on innovation to reduce the friction of acquiring, on-boarding, and driving adoption of analytics in an organization.
"Manthan's innovative 'Switch On' approach to analytics means that retailers can now switch on (like an appliance) our products in a matter of a few days instead of weeks and months. We're happy to see that our scores on the ease of installation and integration, administration and maintenance, and customer satisfaction overall, mirror the results of this strategy," said Atul Jalan, MD and Chairman, Manthan.
Manthan has crafted a comprehensive cloud strategy and offers its solution suites as a service to reduce entry barriers for retailers who want to quickly bolster their analytics capability. Manthan's state of the art cloud analytics helps reduce TCO, boost adoption, scalability and improve data security. In fact its customers in both Tier 1 and Tier 2 retail have embraced its cloud strategy and are already on paths to profit. This has been validated by the top ranks it secured in the ROI (3) and cost of operations (5) categories.
"We have been obsessed with customer satisfaction and have been continually challenging ourselves to develop better ways to ensure analytics is at the core of each and every decision across the business for retail sectors like grocery, fashion, c-store etc, and specifically for business roles within, like merchandising, marketing and supplier management." added Atul.
Manthan's leadership in Tier 1 Retail, performance and technology innovation underlines Manthan's renewed focus on speed to market, single view of multi-structured data, and the ability to drive innovation irrespective of the technology architecture.
Manthan will again have a major presence at the National Retail Federation (NRF) Convention & Expo that will be held on January 17-19, 2016 at New York City's Jacob K. Javits Convention Center. Meet Manthan's Analytics experts at booth #3751 at the NRF Convention & Expo.
About Manthan :
Manthan is the Chief Analytics Officer for consumer industries worldwide. Manthan's portfolio of analytics-enabled business applications, advanced analytics platforms and solutions are architected to help users across industries walk the complete data-to-result path - analyze, take guided decisions and execute these decisions real-time. Sophisticated, yet intuitive analytical capability coupled with the power of big data, mobility and cloud computing, brings users business-ready applications that provide on-demand access and real-time execution - the only path to profit in a contemporary, on-demand and connected economy. Manthan is one of the most awarded analytics innovators among analysts and customers alike .To see how your business can gain from analytics, visit http://www.manthan.com.