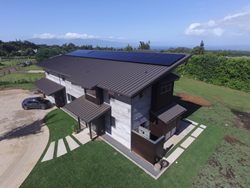 Feedback from customers who have seen this system has been extremely positive, and we have now started selling JuiceBox Energy systems to our customers
(PRWEB) November 24, 2015
JuiceBox Energy, a privately-held –Silicon Valley company committed to providing safe, reliable, intelligent, and connected energy storage, announces the first Hawaii installation of its 8.6 kWh Energy Storage System with Rising Sun Solar on the island of Maui.
JuiceBox Energy partnered with Rising Sun Solar, one of Hawaii's top home solar installers, to install the energy storage system at the home of Brad Albert, Rising Sun Solar's co-owner.
"By installing the JuiceBox Energy system at my own home, I'm showing my customers that I believe this is an invaluable product for Hawaii homeowners who want to guarantee utility approval, keep the lights on when the grid goes down and improve the return on their investment in solar," said Brad Albert, co-owner of Rising Sun Solar. "Feedback from customers who have seen this system has been extremely positive, and we have now started selling JuiceBox Energy systems to our customers."
With this residential JuiceBox installation, the owner will benefit from:
Customer Self Supply – meet the requirements of the Hawaii Electric Companies for non-export PV plus storage
Peak Shifting – shift excess solar production from daylight hours to night time and minimize or eliminate grid reliance
Out-of-the-box integration to the XW+ inverter to eliminate in field programming
Real-time monitoring and control through a cell modem and web interface
Back-up power in event of grid outage
The JuiceBox Energy Storage System is an automotive-grade 8.6kWh lithium-ion battery pack with proprietary charge control and energy management system coupled to the Schneider Conext XW+ inverter, which is now listed and approved for use in Hawaii. The battery management and system controller is designed for safe, reliable, long lasting control of the lithium-ion cells. It delivers over 4000 cycles and comes with a 10-year warranty. It also has redundant protection mechanisms to prevent over voltage, over current, under voltage and over temperature conditions. The system is designed to support grid-tied, grid isolated in the event of grid failure, and off-grid configurations. Each configuration delivers years of dedicated peak shifting, back-up power, energy efficiency and enables participation in emerging transactive energy exchanges.
A cellular gateway to a secure cloud-based repository enables remote monitoring, updates and control. The JuiceBox Energy Storage System is housed in an indoor/outdoor UL-rated enclosure and is available in both AC-coupling and DC-coupling configurations to support both new and existing solar installations.
# # #
About JuiceBox Energy, Inc.: Founded in 2013, JuiceBox Energy is committed to providing safe, reliable, intelligent and connected solar energy storage systems for renewable energy. JuiceBox systems are designed to support consumer self-consumption and enable a resilient, renewable energy grid in order to power a cleaner, sustainable planet. For more information, visit http://www.juiceboxsolar.com and follow us on Twitter: @juiceboxsolar.
About Rising Sun Solar: We are out to change the world and we already have! When we began over 12 years ago we installed the 7th Net Metered PV system on Maui, today over 10% of Hawaii's power is currently generated by small-distributed solar systems. RSSE has been a leader in efforts to promote sustainability, encourage environmental stewardship, and illuminate the pathway to energy independence. Rising Sun is a Sunrun Certified Partner and a SunPower Elite Dealer. Rising Sun has been chosen as Maui's Best Green Business in 2009, 2010, 2012, 2013 and 2015. For more information, visit http://www.risingsunsolar.com.