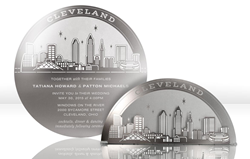 The use of new and emerging technologies to create product from sustainable materials has been our greatest strength.
Cleveland, Ohio (PRWEB) November 25, 2015
Graphic designer and entrepreneur, Nicole Wilson, announced today that she is now the sole managing owner of Invite Design after buying out her business partner of 11 years, Genevieve Kenney. As Invite Design commemorates a decade of providing invitations for life's celebrations, Wilson plans to continue the evolution of the product while maintaining the company's core mission of creating trend-setting, environmentally friendly invitations created with industry leading technology.
Launched in 2004, Invite Design has grown to be known for offering something unique in the invitation world. Its use of unusual materials, such as metal and wood, has set its product apart from the typical offering.
"The use of new and emerging technologies to create product from sustainable materials has been our greatest strength," said Wilson. "We are planning the release of additional metal invitation designs in December, perfectly timed for engagement season. We will also continue to focus on making our invitations as environmentally friendly as possible, such as using sustainably harvested or reclaimed wood for our wood invitations, and finding ways to give the invitation use after the event for our metal invitations."
"The past eleven years of working with Genevieve to build Invite Design have been rewarding," said Wilson. "We overcame many challenges, as is often the case when using new technologies to create a product. We built our reputation based on great customer service and expertise in the field. I am ready to take what we have built and move it forward to share our invitations with new markets."
About Nicole Wilson:
Nicole Wilson received her bachelor's degree in Graphic Design and Photography from Miami University and her master's degree in Entrepreneurship from Baldwin Wallace University.
Wilson launched her career at American Greetings, one of the largest art studios in the United States, and an environment in which she was able to collaborate and thrive. After several years with American Greetings, she combined forces with Genevieve Kenney to create a design firm specializing in invitations and supporting materials for events. Invite Design is located in Cleveland, Ohio. In the last decade, Invite Design has been featured in The Cleveland Plain Dealer and Crain's Cleveland Business for its trend-forward design and eco-friendly products.
In addition to Invite Design, Wilson is part owner of SNIK Studio, a graphic design firm she owns with her husband, Scott Wilson. SNIK Studio offers graphic design and creative consulting services to clients ranging from small businesses to large corporations.
In 2011, Nicole Wilson was named one of Cleveland's "Top 25 Under 35 Movers and Shakers" by the Cleveland Professional 20/30 Club. She also serves as an Advisory Board Member for Virginia Mardi College of Art and Design. She was the spring commencement speaker for Miami University in 2000 and has spoken at numerous design schools. Wilson lives in Cleveland, Ohio with her husband and two children.