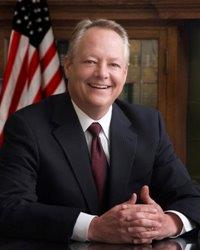 I thrive on pushing myself as an attorney and am looking forward to the new set of challenges that will come with my transition from the public sector.
(PRWEB) November 24, 2015
Skilled attorney will bring acumen in commercial class action, corporate malfeasance, qui tam law
Armstrong Teasdale, a law firm with offices across the United States and in China, proudly announces that the U.S. Attorney for the Southern District of Illinois Stephen R. Wigginton will join the firm in January 2016. Wigginton, who has nearly 30 years of experience, will join the firm's St. Louis office where he will focus on large commercial class action suits, complex litigation involving corporate malfeasance, and qui tam cases. He also has experience representing municipalities and other governmental entities as well as colleges and universities in a wide range of litigation matters.
"We're looking forward to the energy, unique experiences and expertise that Steve will bring to the firm in the new year," said Michael A. Chivell, managing partner at Armstrong Teasdale. "The litany of honors that he's received in his time as a U.S. Attorney is indicative of his work ethic, dedication and personal character. This addition gives our Litigation practice an enhanced national scope and will broaden opportunities for the firm and our clients."
As a U.S. Attorney, Wigginton has received praise for his leadership in law enforcement and received the "Olympian Award" from the Southern Illinois Police Chiefs Association for tackling violent crime. He also received the "Extra Effort Award" from the Edwardsville School District for combating heroin related crimes and his participation in Project Drugsmart.
In December 2012, Wigginton was appointed to the position of chairman of the U.S. Attorney General's Advisory Council Violent and Organized Crime Subcommittee and became the federal prosecutor representative on the Violent Crime Resource Working Group supporting Vice President Joseph Biden's Violent Crime Task Force in the wake of the Newtown, Connecticut, school shooting. He is a member of the Attorney General's Health Care Fraud Working Group and the Civil Rights Sub-Committee, and also serves as the federal prosecutor representative on the government's interagency Threat Mitigation Working Group.
"I thrive on pushing myself as an attorney and am looking forward to the new set of challenges that will come with my transition from the public sector," said Wigginton. "I have always enjoyed practicing law at the firm level and I'm excited about joining Armstrong Teasdale, a firm I highly respect not only for its outstanding collection of talented lawyers but it's commitment to serving communities through its outreach efforts and pro bono work. I look forward to assisting the firm's clients in a variety of ways and believe this great opportunity will be mutually beneficial."
Wigginton is a member of the Illinois and Missouri bar and has tried cases in the Illinois and Missouri Circuit Courts, the Courts of Appeal and the Illinois Supreme Court. He has been admitted in a number of federal courts, including the United States District Court for the Southern District of Illinois and the Eastern District of Missouri and the Seventh Circuit Court of Appeals.
A life-long resident of Southern Illinois, Wigginton graduated from Southern Illinois University at Edwardsville with a Bachelor of Science degree in Business and earned his Juris Doctor from St. Louis University School of Law in 1988.
About Armstrong Teasdale: With lawyers in offices across the United States and China, Armstrong Teasdale LLP has a demonstrable track record of delivering sophisticated legal advice and exceptional service to a dynamic client base. Whether an issue is local or global, practice area specific or industry related, Armstrong Teasdale provides each client with an invaluable combination of legal resources and practical advice in nearly every area of law. The firm is a member of Lex Mundi, a global association of 160 independent law firms with locations in more than 100 countries, and the United States Law Firm Group, a network of 18 law firms headquartered in major U.S. cities. Armstrong Teasdale is listed in the Am Law 200, published by The American Lawyer, and the NLJ 250, published by The National Law Journal. For more information, please visit http://www.armstrongteasdale.com.