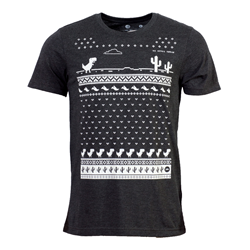 Google Chromes Dinosaur has just landed on this years must-have Christmas Parody T-Shirt
(PRWEB UK) 25 November 2015
Festive Clothing Company Jolly Clothing has unveiled a Jurassic new design this Christmas, a parody of The Lonely Google Chrome Dinosaur, has jumped straight onto a festive pixel-style t-shirt.
Move over chunky knitwear - Retro game-themed Christmas t-shirts have turned "geeky" cool... and here is the must-have design for this Christmas
Fair-isle T-shirts featuring the lonely little T-rex who entices you to play his game when you're unable to connect to the Internet.
Available in mens and womens, the t-shirts comes in a choice of White or Charcoal. The Charcoal ones are Glow-in-the-dark too, for those who want to stand out even more at the Christmas Party!
Not only are they cooler than the average chunky Christmas Jumper, at an affordable £15.00 they are the perfect gift to geek out over this Christmas.
Get yours at http://www.jollyclothing.com
For more information, high resolution images or samples contact claire(at)jollyclothing(dot)com