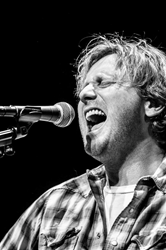 Salt Lake City, Utah (PRWEB) November 24, 2015
Musician Scott Helmer is playing concerts in 12 cities within 24 hours Nov. 30 to Dec. 1, ending with a concert at Salt Lake Community College's Grand Theatre on the South City Campus in Salt Lake City. Helmer is using the concerts to raise money for the Kostopulos Dream Foundation—aka Camp Kostopulos, or Camp K—and break a Guinness Book of World Records title in the process.
Camp K, 4180 E. Emigration Canyon Road, Salt Lake City, provides high-quality programs in a safe environment for people of all abilities and is dedicated to improving the lives of people with disabilities through education, recreation and growth opportunities. Helmer's goal, along with television stations KTVX and KUCW, is to raise $1 million for Camp K. His concert schedule takes him from California and Nevada, up I-15 in Utah through various cities until ending up at the Grand Theatre Dec. 1 around 10 p.m. If Helmer is successful, he will hold the Guinness record for most live concerts performed in a 24-hour period.
Helmer grew up in the Chicago area, learning to play the drums at five years old. The music he plays and records today is a "radio-friendly blend of rock and pop" with a country crossover appeal. For ticketing and information call the Grand Theatre Box Office at 801-957-3322.
The Grand Theatre is a 1,100-seat venue located at Salt Lake Community College's historic South City Campus, home of the innovative and state-of-the-industry Center for Arts and Media at 1575 South State Street in Salt Lake City. The Grand dates back to the 1930s when it was part of South High School, which SLCC purchased in 1989, a year after the school closed. The theatre began offering productions that year and has since with great care and expense retained its Depression-era charm and attraction while also incorporating the latest technology in lighting and sound. Every season the Grand is host to award-winning theatre and dance productions and concerts that attract arts enthusiasts from all along the Wasatch Front. Students and faculty in the arts at SLCC's South City Campus now enjoy and, as a result, excel from having access to the Grand's nostalgic look and feel and the Center for Arts and Media all in one place.