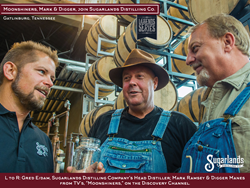 Sugarlands commitment to a family atmosphere and community service was very important to us
Gatlinburg, Tennessee (PRWEB) November 24, 2015
Sugarlands Distilling Company, crafters of award-winning spirits in the Great Smoky Mountains, has partnered with moonshine legends Mark Ramsey and Digger Manes.
Mark and Digger will join Jim Tom Hedrick, Mark Rogers, and Steven Ray Tickle as the newest members of Sugarlands Distilling Company's "Legends Series." The group is comprised of an elite team of legendary moonshiners, all of whom have made appearances on the Discovery Channel show, Moonshiners.
"Sugarlands' commitment to a family atmosphere and community service was very important to us," said Ramsey. "We take pride in our moonshine, and their willingness to allow us to be hands-on in the production of our moonshine was the deciding factor for us. We are looking forward to seeing our fans at the distillery in Gatlinburg."
As young outdoorsmen in the backwoods of Tennessee, Mark and Digger were introduced by friends to a legendary local moonshiner. The experienced distiller had gained notoriety for his shine, but he needed strong backs for bigger batches and youthful legs for wider distribution. Mark and Digger were a perfect fit and they earned their mentor's respect on the way to perfecting their trade.
Mark and Digger will now bring their decades of moonshining expertise to Sugarlands Distilling Company to craft a world class moonshine, made in the heart of the Appalachians.
Moonshine fans have a chance to witness Mark and Digger's craftsmanship on the most recent season of Moonshiners, which premiered November 17 on the Discovery Channel.
To date, Sugarlands Distilling Company's "Legends" have crafted Jim Tom's Unraged Rye, Mark Rogers' American Peach, and Tickle's Dynamite Cinnamon. Since 2014, the three offerings have won a combined five awards at national and international spirits competitions.