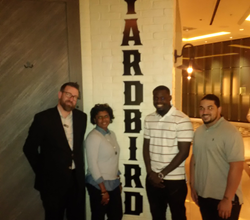 Corporations must work with communities and churches to eliminate concentrating on the fall of others and begin to help people rise.
New York, New York (PRWEB) November 25, 2015
Yesterday marked the first stop on the 'Fight for Better' social philanthropy campaign initiated by The RLC Group on behalf of one of its sponsored athletes, Mayweather Promotions Cruiserweight Boxing Champion Andrew Tabiti. The introductory event was a 100 turkey and Thanksgiving giveaway held at the 1st AME Church of Las Vegas that was created to feed families of 4 or more well beyond the Thanksgiving holidays. Lined up at 6am for the 2:30pm food distribution were some eagerly awaiting participants who wanted to ensure they were on the pre-registered list to obtain the meals.
Tabiti's sponsor, The RLC Group, focuses its sports corporate philanthropy through Run Life's Course on helping the youth and underprivileged communities rebuild and restore their faith in a better tomorrow. Owner Temeko Richardson believes, "Corporations must work with communities and churches to eliminate concentrating on the fall of others and begin to help people rise. By donating over 100 turkeys to this cause, it may help some families who are going through an unexpected transition feel a sense of normalcy and pride that oftentimes is depleted during the holidays during financial hardships. Andrew is a model athlete who has the passion for helping others in these in-between states because he's experienced it before and has learned valuable lessons from it."
Being raised by a church family when times hit hard at home in his native Chicago, Andrew "The Beast" Tabiti knows what it is like to depend on others due to unforeseen circumstances. Tabiti is proof that a supportive community and church fellowship can make all the difference as he attributes his continual drive for excellence to his humble upbringing. Tabiti is very fortunate to have had some great people be a part of his youth who helped his family. Tabiti adds, "Especially as an athlete, good fortune should always be a reminder to give back with a sincere heart and a focus on helping others. It is just important to make boxing news with a knock-out or unanimous decision as it is to help someone who might be down and out".
Teaming up with The RLC Group is the local Las Vegas restaurant Yardbird Southern Table and Grill. Steve Stoltz, Operations Manager, who provided additional turkey donations on behalf of the Venetian-based southern-style culinary group, proclaims, "The restaurant is excited to be able to give back to the families who have welcomed so graciously. Being a part of this community is not just living and working here, but also helping ensure everyone has a hot and delicious meal to share with their loved ones for the holidays."
Much like yesterday's collaborative volunteer efforts to encourage the less fortunate and restore hope, Richardson believes a quarterly focus in native New York City, Albany, Baltimore, and/or Las Vegas will help in unimaginable ways beyond the holiday season.