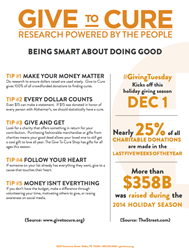 Give To Cure's model is to give 100% of funds raised through the crowd directly to clinical trials for Alzheimer's disease
Dallas, Texas (PRWEB) November 24, 2015
Charitable giving is at its peak during the holidays. In fact, nearly one-quarter of all charitable donations are made in the last five weeks of the year totalling over $358 billion in 2014. With more than 1.5 million U.S. charities, #GivingTuesday was created in 2012 to connect the nation's charities with those individuals who want to "give back" during the holidays.
"With so many charities to consider, many individuals are looking for smart and strategic ways to maximize their giving dollars, especially if they are working within a budget," said Suzanne Kwok, executive director of Give To Cure, the world's first non-profit using crowdfunding to accelerate drug development to find new medical cures. "Understanding a few basic tips will help individuals know that their money is being maximized toward the charitable goals that are most important to them and their loved ones."
Five Tips for Being Smart about Doing Good
1. Make Your Money Matter. Do your research before giving. Make sure there is a high percentage of the giving dollar going to organization's mission versus administrative and overhead costs. "Give To Cure's model is to give 100% of funds raised through the crowd directly to clinical trials for Alzheimer's disease," said Kwok. "An expert scientific advisory board has chosen three trials based solely on their scientific merit. Donors help patients treatment right away, and can track the progress of the trial to see the difference their dollars are making first hand."
2. Every Dollar Counts. Just because individuals can't give a huge monetary donation doesn't mean that smaller donations aren't meaningful. Small donations like $15 can make a statement.
For example, if just a $15 donation was made for each of the 5.6 million patients with Alzheimer's Disease in the U.S. right now, Give To Cure statistically should be able to fund enough new research to find a cure for Alzheimer's, according to Kwok.
3. Give AND Get. Look for a charity that offers a way to check off a gift on the holiday shopping list! It's OK to get something in return when donations are made. For example, Give To Cure partnered with world famous street artist and activist, Shepard Fairey to create fashionable merchandise and gifts. "Profits from the Give To Cure store will support research for Alzheimer's disease. This way, you get to do a good deed, and your loved one gets something cool to unwrap and love all year long," Kwok continued.
4. Follow Your Heart. Give to a cause that touches you or the people you love. If someone on your list already has everything they want, consider giving a gift to a cause they are passionate about instead of another item to sit on the shelf. Knowing that you are making a difference on their behalf recognizes the true meaning of the holidays!
5. Money isn't everything. If your budget is just too tight this year, no one says you have to make a monetary donation to do good. Think outside the box. Anyone can make a difference through volunteering time, sharing a talent or motivating those around you to give. Consider these ideas:

Run a 5K and ask loved ones to sponsor you by donating to a certain cause or organization.
Organize a wrap-a-thon and wrap presents in exchange for donations to the charity of your choice.
Become an online ambassador for your charity by helping to spread its message through your own social media channels. Invite your friends to like them on Facebook and Tweet out updates to keep your circles engaged on an issue that you care about.
About Give To Cure
Give To Cure is the world's first nonprofit that accelerates drug development by empowering individuals to directly and transparently fund clinical trials. Give To Cure is guided by science to bring front-line treatments to those who need them through the power of crowdfunding. To learn more or to donate, visit http://www.GiveToCure.org.
Follow us:
Facebook: /GiveToCure
Twitter: @GiveToCure
Instagram: /GiveToCure