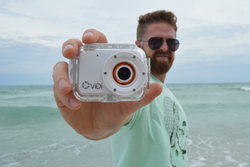 ViDi is an ideal gift for all ages because it's high quality, affordable and ready to shoot right out of out of the box, so you can start capturing holiday moments within seconds of opening a gift
Provo, UT (PRWEB) November 24, 2015
ViDi, The People's Action Camera, that makes Pro-Grade results attainable for everyone, is perfect for capturing all the family holiday action. After eclipsing its crowdfunding goal on Kickstarter it's closing in on tripling its goal.
"ViDi is an ideal gift for all ages because it's high quality, affordable and ready to shoot right out of out of the box, so you can start capturing holiday moments within seconds of opening a gift," said Spencer Taylor, ViDi Founder. "We have created an action camera that's attainable for everyone - from extreme athletes, to kids doing tricks at their local skate park, to mom's recording special family moments."
ViDi and its camera kit offers users a Pro-Grade Action Camera at a fraction of the price of its competitors. The ViDi camera shoots in True 1080p High Definition at 30 frames per second with a rear LCD screen, digital 4x zoom lens and a High-Def CMOS Sensor with low-light resolution and a wide ultra-clear 140-degree fish eye lens.
ViDi works with Windows and iOS and comes with a 700 MAH lithium rechargeable battery, which is good for up to 90 minutes of use. The camera can also take still photos at 12 megapixels and the video shoots in MOV, DSP and MP4 formats.
Each ViDi camera kit includes:

ViDi True 1080p HD Camera
ViDi Waterproof Case
4GB Micro SD Card (pre-installed ready to use right out of the box)
Selfie Stick
Micro-USB Charger Cable
Charged Battery (ready to use right out of the box)
Quickstart Guide
Kickstarter Special: Free trial of Shred Video automatic editing software
ViDi has the support and endorsement of Global Ambassadors, including soccer legend Ronaldinho, professional stunt rider Ian Gaines, aviator Erin Davis and artists Foreign Figures, Red Yeti and DJ Jerry.
The transparent camera kit has early bird prices starting $89 on Kickstarter and it will be shipped in time for the holidays. For more information visit https://www.kickstarter.com/projects/vidi/1949248501?ref=PRN1
About ViDi
ViDi CEO Spencer Taylor is a father of five and an entrepreneur dedicated to building real value. After struggling to find a quality action camera for himself and his kids to use that was also affordable, Spencer decided to see what it would take to develop a camera that brought as much quality as it did value. He's since amassed some of the best talent in product development, sourcing, and other fields to help make ViDi a reality.
So, ViDi was born out of the search to create an action camera for the people. It was a long road, and many obstacles had to be overcome, but it's finally finished and ready for its debut... and it's happening right here on Kickstarter. The ViDi LCD is ready for the People.