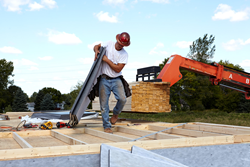 It's an honor that the product is being recognized with such a prestigious award from one of the industry's most trusted magazines.
Puyallup, Wash. (PRWEB) December 02, 2015
To help home and building owners reduce their heating and cooling energy costs, in 2015 Insulfoam introduced a new class of insulation - graphite polystyrene (GPS). Made with BASF's Neopor, a rigid foam that integrates high-purity graphite into the polymer matrix, the product has been honored as an Architectural Record "Record Products 2015" winner in the magazine's December issue.
The innovative insulation offers similar performance as extruded polystyrene (XPS) insulation, but is more affordable, and with stable long-term R-values and exceptional vapor permeability, making it a breathable insulation. The insulating R-values of Platinum GPS increase as the temperature decreases, so that the product performs even better when it is needed most.
"We introduced Platinum GPS to maximize insulation performance, while maintaining a light-weight, thin product ideal for use in space constrained areas or colder climates," said Michael McAuley, President of Insulfoam. "It's an honor that the product is being recognized with such a prestigious award from one of the industry's most trusted magazines."
Insulfoam Platinum GPS insulation is suitable for a range of residential and commercial wall applications, including:

Wall sheathing systems
Continuous insulation
Exterior Insulation and Finishing Systems (EIFS) and stucco systems
Pre-cast or tilt-up walls
Retrofit/remodel
Structural insulated panels (SIPs)
About Insulfoam
A division of Carlisle Construction Materials, Insulfoam is the largest manufacturer of block-molded expanded polystyrene (EPS) and graphite polystyrene (GPS) in North America, with 10 plants throughout the United States. Insulfoam supplies a wide range of insulation products for use in all areas of homes and buildings. Product brand names include: InsulFoam®, R-Tech®, InsulRoof, InsulWall, InsulGrade, Platinum GPS and Total Wall System. The company also offers InsulFoam® GF geofoam lightweight fill, and specialty EPS products for architectural shapes, floatation, packaging and other uses. http://www.insulfoam.com, (800) 248-5995