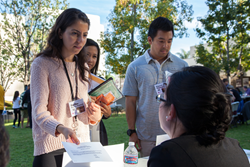 "The poverty simulation gave our students an opportunity to experience just a fraction of what it's like for a low-income family in just a few hours," said Kimberly Clark, MPAS, PA-C.
Fullerton, CA (PRWEB) December 01, 2015
The campus community at Marshall B. Ketchum University was invited to partake in its first-ever Poverty Simulation last Friday, November 20, 2015. As part of the university's interprofessional health care curriculum, first-year OD and PA students simulated the experiences of a low-income family trying to navigate the complex system of community resources for one month. The objective was to sensitize participants to the realities faced by low-income, and poverty-stricken members of the communities they will work with.
Tables were placed around the Patricia Hopping Commons at MBKU which represented community resources that low-income families may interact with, such as a bank, community action agency, social service agency and child care center. Members of the faculty and staff across all departments and disciplines participated in the simulation by acting as one of these community resources.
"Students were randomly placed in families with varying levels of hardship. Some were homeless, while others were senior citizens who were responsible for raising their grandchildren," said Judy Ortiz, PhD, PA-C, Dean and Professor, College of Health Sciences and Director, School of Physician Assistant Studies. "In order to survive the month, participants had to navigate this complex web of social services represented by MBKU's faculty and staff. The simulation promoted a greater understanding of the real-life issues low-income individuals and families face every day."
There was a lot of buzz and excitement before the simulation began. Students were laughing and connecting with their new "families." Students quickly realized that it was more than a game as they began to rotate around the Commons visiting the various services. Some families ran out of money before the end of the month while others had trouble obtaining a bus pass to get from one service to the other. The simulation exposed MBKU students to the very real difficulties of living day-to-day on low incomes.
"The poverty simulation gave our students an opportunity to experience just a fraction of what it's like for a low-income family in just a few hours," said Kimberly Clark, MPAS, PA-C, Assistant Professor and Director of Assessment, School of Physician Assistant Studies. "OD and PA students experienced 'one month' of poverty compacted into the real time of the simulation. Afterward, the students, faculty and staff engaged in a discussion where some students even shared their personal experiences with hardship."
University President, Kevin Alexander, OD, PhD summed up his thoughts on the day, "At Marshall B. Ketchum University, we're not only training future health care providers, but also members of a community. It's important that they graduate with the hard skills to do their jobs well, and also the soft skills to provide the best care possible for all of their future patients. Support from CSU, Fullerton's Nursing School gave us the opportunity to engage in a valuable simulation that will benefit every student who participated now and in the future."
About Marshall B. Ketchum University
Located in Fullerton, CA, Marshall B. Ketchum University is an independent, private, non-profit, accredited educational institution. MBKU is now home to the Southern California College of Optometry, the School of Physician Assistant Studies and planned College of Pharmacy. Named after the founder of the optometric institution in 1904, the change to a university structure addresses the growing demand for highly skilled health care professionals. The university confers a four-year, professional degree, Doctor of Optometry (OD) and a Master of Science in Vision Science (MS) degree. MBKU's School of Physician Assistant Studies under the College of Health Sciences awards a Master of Medical Sciences (MMS) degree. MBKU has recently announced plans to establish a College of Pharmacy and plans to welcome its first class in the fall of 2016. MBKU owns and operates two premier eye and vision care centers – University Eye Center at Fullerton and University Eye Center at Los Angeles. Marshall B. Ketchum University closed on a deal in January, 2015 to purchase a building in Anaheim, CA. The building will be the new home of Ketchum Health, currently the University Eye Center housed at MBKU's main campus in Fullerton. In addition, the new space will allow for expansion of additional primary health care services, as well as a pharmacy.
###