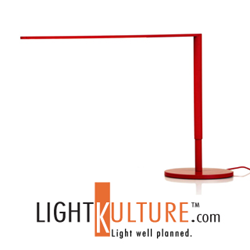 Lady 7 is the smartphone of desk lamps.
(PRWEB) November 25, 2015
LightKulture.com is excited to offer the new, ultra-efficient Koncept Lady 7 LED task lamp. "Koncept has been one of our go-to brands since we discovered the line a few years ago" noted Susan Inderbinen President of LightKulture.com. Lady 7 is a beautiful linear light source, perfect as a desk lamp or bedside reading lamp. Thanks to the ultra-efficient 6 watt LED's, Lady 7 does not require a heat sink. The result is a trimmer design which allows all the components to be housed in a slimmer space. All components are housed inside the lamp, keeping a clean silhouette that is easy on the eyes. Koncept Lady 7 swivels 360 degrees, telescopes in height from 12.5" to 20.5", allowing the user to adjust the color temperature from 2700 kelvin, to 4000 kelvin, and includes a USB charge port on the base. Simply touch and hold the on-off switch underneath the linear extension, close to the right angle of the main support. The adjacent built-in fingertip touchstrip adjusts the brightness. Swipe left or right to control the intensity of the light.
Designed by Kenneth Ng and Edmund Ng, Lady 7 has already won numerous awards. These include the Japan Good Design Award 2014, Spark Award 2014, Interior & Sources Readers Choice Award 2014, and IF Design Award for 2015. Lady 7 is designed with the minimalist in mind. Available in metallic black, silver or matte red, Lady 7 is manufactured taking into account a number of environmental concerns. Manufactured from fully recyclable aluminum, and water based paint, the LED's do not contain mercury. There is also a built in 5 hour auto shut-off timer. The low power consumption along with other considerations, allows Lady 7 LEED credit eligibility. This LED desk lamp offers a lot of features and style. Lady 7 will soon be available in a floor version, including all the same features as the desk model, with a USB port housed in the stem.
For more information go to
Koncept - http://www.lightkulture.com/lady7-led-desk-lamp-koncept/
Hello Lady 7, New Ultra-Efficient LED Task Lighting by Koncept, Now Available at Lightkulture.com
"The new Lady 7 task lamp is the latest technological advancement in the art of illumination from Koncept. Slim and sexy, it is the ultimate minimalist design lighting from Kenneth and Edmund Ng. Koncept is a company whose philosophy is to invent new ways to provide light at numerous angles, at various color temperatures,RGB, maximum adjustability and dexterity, slide touch dimming innovative USB rechargeability and energy saving auto-shut off features.The innovations keep coming, this time in a very slim and simple, clean design. The Lady 7 offers 6 watt 83 CRI LEDs provide 320 lumens of task lighting with the ability to change the color temperature from a warm 2700K to a cooler 4000K, and every temperature in between. Without the need for a heat sink, the design can be leaner, still allowing you to control the ambiance of your space. Tune the white, and dim the light as you wish. Lady 7 is the smartphone of desk lamps. It looks much more expensive than its $270 price tag. It's easy on the wallet, easy on the eye, and makes a thoughtful holiday gift. Lady 7 is in stock in 4 fashion colors to work with any interior design of your home or office, or for someone you love. It's beautiful, practical, and fun to use. I call it a necessary indulgence", noted Susan.
About LightKulture.com
At LightKulture.com, our mission is to offer the finest energy efficient contemporary lighting and light fixtures from around the world. We have assembled an exciting collection of the industry's most innovative decorative and architectural lighting.We are proud to offer lighting solutions for both your home and work-life environments. Simplicity in design is complicated, function makes it last. Be inspired by our range of essential designs from well respected American and European manufacturers. In today's world, energy efficient lighting is as important as eco-friendly or green lighting fixtures, such as LED or CFL lighting. We offer the very best energy efficient lighting and light fixtures, both high value LED lighting fixtures and CFL lighting fixtures in modern and contemporary styles that provide quality, innovation and authenticity.
LightKulture
http://www.lightkulture.com/
Email. sales(at)lightkulture(dot)com
Tel. 941-330-0422