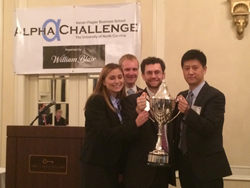 Chapel Hill, N.C. (PRWEB) November 24, 2015
MBA students from 16 business schools battled to win the premier investment management competition – the Alpha Challenge – hosted by the University of North Carolina Kenan-Flagler Business School Nov. 19-20, 2015.
The UNC Kenan-Flagler team – Elise Radolf, Devon Pennington and Anthony Xu – won first place. Columbia Business School and the Yale School of Management teams finished second and third, respectively.
Now in its 11th year, the Alpha Challenge pits MBA teams against each another as they present three stock ideas, one long and one short investment recommendation from a predefined universe of stocks, and a "wildcard" open to all stocks. They defend their analysis to a panel of distinguished judges who are hedge fund managers, institutional portfolio managers and equity research analysts.
"Top MBA students test their investment management skills and interact with accomplished professional investors, who then have the opportunity to identify top talent for their firms," said Chip Snively, a UNC Kenan-Flagler finance professor and co-director of the Alpha Challenge.
The two-day event began with 27 firms interviewing candidates on Thursday, followed by an evening of networking. On Friday 48 MBA students competed and 48 judges represented 42 firms that participated in the event. Stephanie Braming, partner and a portfolio manager for William Blair's international growth and international small cap growth strategies, gave a keynote talk.
"The Alpha Challenge provides learning experiences for the students and recruiting opportunities for the firms," said Jim Jones (MBA '06), William Blair partner and research analyst. Jones co-founded the Alpha Challenge as an MBA student at UNC Kenan-Flagler and remains deeply involved in it. "We started this event because most of the buy side of investment management doesn't have a formal recruiting process and every year more firms realize that UNC is the place to be to identify the best and brightest."
The students competed on their home campuses for the opportunity to represent their schools at the Alpha Challenge at UNC Kenan-Flagler, and once selected, submitted a one-page stock idea along with their resumes.
MBA student team teams were fielded by:

Carnegie Mellon University, Tepper School of Business
Columbia University, Columbia Business School
Cornell University, Johnson School of Management
Dartmouth College, Tuck School of Business
Duke University, Fuqua School of Business
Indiana University, Kelley School of Business
Massachusetts Institute of Technology, MIT Sloan School of Management
New York University, Leonard N. Stern School of Business
Northwestern University, Kellogg School of Management
University of California, Berkeley, Haas School of Business
University of Chicago Booth School of Business
University of North Carolina Kenan-Flagler Business School
University of Michigan, Ross School of Business
University of Pennsylvania, The Wharton School
University of Virginia, Darden School of Business
Yale University, Yale School of Management
The investment professionals who served as judges for the 2015 Alpha Challenge were from William Blair Investment Management, Fred Alger, Alyeska Group, American Century, Artisan Partners, Capital Group, Carlson, Chilton Investment Company, Columbia Wanger, DGHM, Diamond Hill, Driehaus, Federated Investors, Franklin Street Partners, Franklin Templeton, Fidelity, Harris Associates, Janus Capital, Lone Pine Capital, Loomis Sayles, Manning & Napier, Maverick Capital, MFS, Mid-Continent Capital, Neuberger Berman, Putman, RS Investments, Seamark Capital, Sirios, Thornburg, TIAA-CREF, T. Rowe Price, UBS Global, WEDGE Capital, Wells Capital and Yacktman
William Blair was the lead sponsor of the 2015 Alpha Challenge. Other sponsors were Fred Alger, Carlson Capital, Chilton Investment Company, Harris Associates, T. Rowe Price, Yacktman Asset Management, Alyeska, American Century Investments, Artisan Partners, Capital Group, FactSet, Fidelity Investments, Franklin Templeton Investments, Janus, MFS, Sirios Capital Management, UBS Global and WEDGE Capital Management.
For more information, visit http://www.alphachallenge.org.
#
About the University of North Carolina Kenan-Flagler Business School
Consistently ranked one of the world's best business schools, UNC Kenan-Flagler is known for its collaborative culture that stems from its core values: excellence, leadership, integrity, community and teamwork. Professors excel at both teaching and research, and demonstrate unparalleled dedication to students. Graduates are effective, principled leaders who have the technical and managerial skills to deliver results in the global business environment. UNC Kenan-Flagler offers a rich portfolio of programs and extraordinary, real-life learning experiences: Undergraduate Business, full-time MBA, Executive MBA Programs (Evening, Weekend and global OneMBA®), online MBA@UNC, UNC-Tsinghua Dual-Degree EMBA, Master of Accounting, PhD, Executive Development, and UNC Business Essentials programs. It is home to the Frank Hawkins Kenan Institute of Private Enterprise.