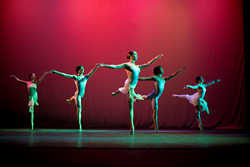 Pensacola, Fla. (PRWEB) November 24, 2015
This Gulf Coast vacation hotspot is known around the world for being home to the "world's whitest beaches" and the Blue Angels, the U.S. Navy's flight demonstration squadron. However, there's more to Pensacola than its iconic sand and high-flying, military ambassadors. Visit Pensacola invites travelers to discover this colonial-era seaport's finer side in late winter and early spring of 2016.
Pensacola has an outsized appetite for the arts. The city boasts a professional opera, symphony, ballet, theatre and accredited art museum, all within downtown's historic core. Pensacola is the only city from Tampa to Mobile, Alabama, to host such a diversity of cultural experiences. Read below to learn more.
The Saenger Theatre — The Grand Dame of Palafox
Ninety years after opening, the Saenger Theatre's opulent, Spanish-Baroque façade still stands sentinel over Palafox Place, downtown's main commercial artery. The theatre is listed on the National Register of Historic Sites and continues to offer a wide variety of artistic performances. The 2016 Broadway Series includes the following shows:

The Producers — Tuesday, Jan. 5, 7:30 p.m.
Annie — Wednesday, Feb. 3, 7:30 p.m.
Stomp — Tuesday, Feb. 23, 7:30 p.m.
Bullets Over Broadway — Saturday, March 19, 2 p.m.
The Illusionists: Live from Broadway — Wednesday, April 6, 5:30 and 8:30 p.m.
Adding to this impressive lineup, the Saenger is also home to regular performances by the Pensacola Symphony Orchestra and Pensacola Opera.
The Pensacola Symphony
The Pensacola Symphony Orchestra, now entering its 90th season, continues to grow and ensure that live, symphonic music reaches as many listeners as possible. The early-2016 lineup includes the following performances:
Beethoven & Blue Jeans — Saturday, Jan. 9, 7:30 p.m.
Mozart Madness — Saturday, Feb. 6, 7:30 p.m. at First Methodist Church on Wright Street
Cirque de la Symphonie — Saturday, Feb. 13, 7:30 p.m.
Sounds of Europe — Saturday, March 5, 7:30 p.m.
Russian Spectacular — Saturday, April 2, 7:30 p.m.
Shostakovich Symphony No. 10 — Saturday, April 30, 7:30 p.m.
The Pensacola Opera
The Pensacola Opera, now in its 33rd season, produces professional opera performances, educational programs and other opera-related community events. The 2016 season will include the following performances:
La Traviata – Friday, Jan. 22, 7:30 p.m. and Sunday, Jan. 24, 2 p.m. "La Traviata," by Giuseppe Verdi, tells the true story of a scandalous love affair between a famed Parisian courtesan and a naïve nobleman.
The Merry Widow – Friday, March 11, 7:30 p.m. and Sunday, March 13, 2 p.m. Franz Lehar's beloved operetta tells the story of a beautiful, rich widow in search of love in Paris.
Out of Darkness – Thursday, March 31 – Saturday, April 2, 7:30 p.m. and Sunday, April 3, 2 p.m. In "Out of Darkness," composer Jake Heggie and Librettist Gene Scheer convey the vastness of the Holocaust's scope through three emotionally rich portraits of those caught in its grasp.
The Pensacola Museum of Art
A few blocks south of the Saenger, is the Pensacola Museum of Art. Located in the old city jail, with the original steel bars cordoning off exhibit rooms from one another, the two-story museum houses a permanent collection comprised of 19th and 20th century works by famed artists Alexander Calder, Andy Warhol, Pablo Picasso, Leonard Baskin, Salvador Dali and others. The museum also owns a decorative arts collection of European and American glass and African art.
The museum has presented hundreds of exhibitions and thousands of educational opportunities during the last 61 years and offers a full calendar of community events. Upcoming exhibitions include the following:
Funky Turns 40 — February 23 – April 9 — This exhibition includes 60 pieces of animation art commemorating the 40th anniversary of 1970's Saturday morning cartoons that featured positive black characters for the first time in television history.
The Artist Revealed: Artist Portraits and Self-Portraits — April 22 – July 16 — Organized by the Syracuse University Art Collection, this exhibition brings together fifty works in a variety of media that examine self-portraits and portraits of other artists.
Stephen Knapp: Lightpaintings — May 13 – August 27 — Heralded as the first new art medium of the 21st century, Stephen Knapp dispenses with traditional media to create sculptural canvases composed entirely of light and glass – a crossroads of painting, sculpture and technology.
Pensacola Little Theatre
Directly across the street from the museum is the Pensacola Cultural Center, home to the Pensacola Little Theatre, the oldest continually operating community theatre in the Southeast. Throughout the year the theatre offers musicals, comedies, dramas, and children's shows, plus a variety of adult and youth classes in acting and other theatre skills. Coming in winter and spring of 2016 are:
Quilters: A Frontier Musical — Jan. 29 – Feb. 7, 2016 — Illuminating tales, contained within various quilt patches, will depict women on the American frontier through girlhood, marriage, childhood, spinsterhood, twisters, fire, illness and death.
Don't Dress For Dinner — April 15-24, 2016 – Bernard is planning a romantic weekend with his chic Parisian mistress in his charming converted French farmhouse while his wife, Jacqueline, is away. What could possibly go wrong?
Ballet Pensacola
The Cultural Center is also home to the city's resident professional ballet company, Ballet Pensacola. The company presents several major performances each season. Coming in winter and spring of 2016 are:
Swan Lake — Feb. 12-14 and Feb. 19-20 — Lose yourself in the romance of this classic ballet and a love so strong it transcends a sorcerer's curse.
Swing, Swang, Swung — Friday, April 29 - Sunday, May 1 — This lighthearted repertory evening of dance will feature choreographed works set to popular music artists such as The Beatles and Led Zeppelin.
Pensacola boasts many other museums, galleries and arts organizations, where visitors can get a taste of the city's cultural diversity — including the Jazz Society of Pensacola, First City Art Center, Pensacola Children's Chorus, Artel Gallery, Quayside Art Gallery, the Anna Lamar Switzer Center for Visual Arts, the Museum of Commerce, the National Museum of Naval Aviation, the Pensacola Lighthouse and the Historic Pensacola Village.
This diversity is on prime display at Downtown Pensacola's monthly Gallery Night, a city-wide block party held one Friday each month. During the event, many businesses stay open late, and locals and tourists of all ages enjoy art, music, and food.
For a full range of 2016 activities in the Pensacola Bay Area, including upcoming performances, art exhibits, festivals and sporting events, go to http://www.visitpensacola.com.
##
About Visit Pensacola
Visit Pensacola leads the effort of economic development through tourism in Escambia County. Comprised of over 200 member businesses, Visit Pensacola's mission is to position the Pensacola Bay Area as a premier year-round travel destination through tourism marketing, communications, meetings and conventions, reunions and group tour initiatives. For more information about Visit Pensacola, call 1-800-874-1234 (toll-free) or go to http://www.visitpensacola.com.
###