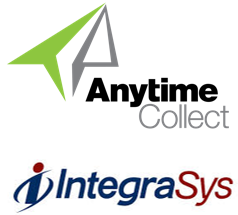 We were extremely pleased to form this strategic relationship with e2b and integrate these two excellent products in order to better serve our current and future customers.
Chardon, Ohio (PRWEB) November 25, 2015
e2b teknologies, publishers of Anytime Collect accounts receivable management software, and IntegraSys, the developer of the DSD Manager route accounting software suite, today announced a technology partnership and integration. The pairing will provide a complete solution for their mutual customers to increase efficiencies and cash flow through the automation of their most important business processes.
With over two decades of experience in the distribution industry, IntegraSys developed the DSD Manager application suite specifically to support the Direct Store Delivery (DSD) market. DSD Manager is both a web-based and client-server solution that serves to automate, streamline and improve all aspects of beverage, dairy, ice cream and snack distribution operations by providing industry-specific features such as mobile invoicing and ordering, electronic data interchange, native scan-based-trading (SBT) support and much, much more.
Anytime Collect (http://www.anytimecollect.com), developed by e2b teknologies, is a leading cloud-based accounts receivable management system that extends basic A/R modules with advanced tools and automation features to rid companies of time consuming accounts receivable management processes. Anytime Collect allows users to automatically send payment reminder emails, prioritize collection activities, archive customer email conversations, schedule follow up activities, manage disputes, forecast cash, centralize critical information, manage credit information, enable customers to pay invoices online via credit card or ACH, and more.
"A growing number of our customers were coming to us with questions looking to help better manage invoice collections and cash flow," said Peter D'Angelo, the Managing Director of IntegraSys. "We were extremely pleased to form this strategic relationship with e2b and integrate these two excellent products in order to better serve our current and future customers."
With the direct integration of these systems, data will be synchronized between DSD Manager and the Anytime Collect databases. Accounts receivable data, such as customer accounts, contacts, invoices, payments, and payment applications, is moved into Anytime Collect. Subsequent synchronizations update the information or add new information from DSD Manager into Anytime Collect to ensure collectors are always working from accurate information while eliminating the need for error prone and time consuming re-keying.
Adam Lynch, a Strategic Account Manager for Anytime Collect, worked closely with IntegraSys to take this partnership from a concept, to a fully integrated reality. "This partnership is a perfect match," explained Lynch. "Companies that do direct store delivery are typically dealing with products that are fast-turning with high consumer demand. This translates to a huge volume of invoices which can be hard to stay on top of in terms of timely collection, and that's where Anytime Collect comes in."
For more information about Anytime Collect's Partner Program, please visit http://anytimecollect.com/Pages/Partners.aspx
About IntegraSys:
IntegraSys (http://www.integrasys.com) is the proud developer of DSD Manager, the leading DSD (Direct Store Delivery) Route Accounting Solution for the distribution industry. Our proven "one stop" DSD-specific solution (complete with a full financial suite) saves our customers time & money through efficient automation of their business. IntegraSys was founded in 1996 and has proudly served the distribution market for over 2 decades. IntegraSys has created a unique and powerful solution for our customers that combines "real world" distribution expertise with the latest software & hardware technology. Our grassroots approach to the distribution business inspired the phrase "IntegraSys is a DSD company first and a software company second".
About Anytime Collect:
Anytime Collect, published by e2b teknologies (http://www.e2btek.com), is a leading cloud-based accounts receivables management system integrated to popular ERP accounting systems including Epicor, Sage ERP, Microsoft Dynamics, Intuit QuickBooks, and others. Anytime Collect is designed specifically for businesses selling to other businesses on credit terms to streamline and automate the entire accounts receivable credit and collections process with a return on investment in as little as two months.