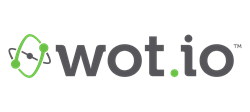 New York (PRWEB) November 24, 2015
wot.io™, the data service exchange™ for connected device platforms, today announced that bip.io™, its easy-to-use web automation data service, has now added a premium service tier to the free hosted offering. Users of bip.io Premium plans have available integrations with top-tier services like Dropbox, Slack, Google Apps, Trello, Twitter and MailChimp, along with many others.
"In short, bip.io makes web automation simple, but retains deeper features and flexibility for power users," said Michael Pearson, bip.io's creator. "The robust application logic powering bip.io is extremely efficient and learns with the user, so automation becomes better over time. We think users will appreciate the additional features and support they'll receive as part of our premium service offering. "
bip.io is a scalable, easy-to-use web automation platform. Users set up workflows, known as "bips," within the system, to perform one or more tasks triggered by defined events. For example, a personal user can set up a bip for their Google Apps Mail to automatically download each attachment to their Dropbox account. A user can also easily automate the task of analyzing and reporting Internet of Things (IoT) data, updating a shared web document or dashboard with the result.
bip.io now includes 17 premium-level service integrations (known as "pods" in the bip.io environment) available to premium level users, including Dropbox, Evernote, Google Drive, MailChimp, Nest, Slack and Zoho. The premium pods are in addition to more than 40 other service integrations available to all users even at the free level, including Facebook, Twitter, Vimeo, SoundCloud and Reddit. Users are able to leverage the API available with these services to design custom workflows, automate web processes and streamline their data.
The bip.io service is available in four premium tiers, from smaller personal-sized usage plans starting as low as $10 per month, ranging up to full-scale enterprise plans with costs customized to the usage levels of the high-volume customer. The new support levels allow users and businesses to integrate bip.io into key business processes with confidence, knowing they can contact support with questions or other support needs. At the top commercial level, wot.io will deploy a dedicated bip.io installation, so all activity related to that bip.io installation is for workflows deployed for that customer.
About bip.io
Acquired by wot.io in 2014, bip.io is a web service automation and data transform platform, especially useful for the system integrator or product designer to automate actions and derive value from connected device data. bip.io is an exclusive data service in the wot.io data service exchange.
About wot.io
Founded in 2014, wot.io is the data service exchange for connected device platforms. wot.io enables the enterprise customer to derive value from their data while accelerating time-to-market for IoT and Machine to Machine (M2M) implementations. wot.io's data service exchange of best-in-class data services enables customers to focus on building their solution while freeing them from the time consuming effort of making contractual agreements and technically integrating each data service. Through choice, time-to-market and scalability we help our customers drive ROI and increase revenue with their solution using analytics, business intelligence, data retention, device management, data management, monitoring, visualization, reporting, web API automation and other offerings.
wot.io and its logo, bip.io and data service exchange are trademarks of wot.io, Inc. All other company or product names, brands, trademarks, and logos are the property of their respective owners. All rights reserved.
###