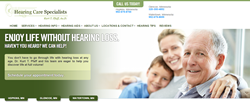 (PRWEB) November 24, 2015
Addressing hearing loss is important for mental wellbeing, according to Hearing Care Specialists, which is raising awareness of the link between unaddressed hearing loss and depression for World Mental Health Day. Hearing Care Specialists is urging people of all ages to include regular hearing tests as part of a healthy lifestyle to promote good mental health. Research shows that people with hearing loss who use hearing aids often have fewer depressive symptoms, greater social engagement, and improved quality of life.
Research shows that when left unaddressed, hearing loss is frequently associated with other physical, mental, and emotional health issues that diminish quality of life.
Most noteworthy, a growing body of research shows a link between unaddressed hearing loss and depression.
A 2014 national study found that hearing loss is associated with an increased risk of depression in adults of all ages. An Italian study found that working adults with untreated mild to moderate hearing loss were more prone to depression, anxiety, and interpersonal sensitivity than those without hearing problems. And a Johns Hopkins study found that older adults with hearing loss were 57 percent more likely to have deep episodes of stress, depression or bad mood than their peers with normal hearing.
Years of research by the Better Hearing Institute has shown that getting a hearing test and using professionally fitted hearing aids is an important way for people with hearing loss to ease the stress associated with intensive listening and to safeguard their quality of life and mental wellbeing.
An Italian study that appeared in Geriatrics & Gerontology International, for example, concluded that the benefits of digital hearing aids in relation to depressive symptoms, general health and social interactivity were clearly shown. In fact, reduction in depressive symptoms and improved quality of life at statistically significant levels were observed early on with the use of hearing aids.
A much earlier study—conducted by Cynthia D. Mulrow, MD, MSc, and co-investigators and published in the Annals of Internal Medicine years before the most recent advancements in hearing aid technologies—concluded that hearing loss is associated with important adverse effects on the quality of life of elderly persons—effects that are reversible with hearing aids.
For more information on World Mental Health Day, visit the World Federation for Mental Health at http://www.wfmh.org. For more information on National Depression Screening Day, http://visit visit http://www.mentalhealthscreening.org.
About Hearing Care Specialists
Hearing Care Specialists is a full-service audiology practice located in Minnesota, with locations in Hopkins, Glencoe, and Watertown. The practice offers comprehensive services including hearing tests, hearing aid evaluations, custom hearing aid fittings, hearing aid cleanings, rehabilitative counseling, preventive care advice, and service and repair for most hearing aid models.
Contact:
Kurt T. Pfaff, Au.D.
Hearing Care Specialists
952-679-8700
http://www.hcshearing.com