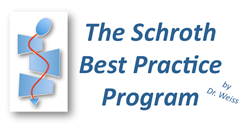 Mounting evidence for Schroth Best Practice®, coupled with newly trained practitioners around the world, points to more opportunities for scoliosis patients seeking the best care.
Woburn, MA (PRWEB) November 30, 2015
Schroth Best Practice® Academy Board members are all part of an international working group of Schroth Method physicians and practitioners who have been trained by Dr. Hans-Rudolf Weiss, third-generation Schroth family member.
All board members are experts in the conservative treatment of scoliosis and use Schroth Best Practice® and the Gensingen Brace® in their practices. Schroth Best Practice® techniques are cutting-edge, evidence-based improvements (by Dr. Weiss) of the original Schroth Method. The result is a more-streamlined, user-friendly patient experience. One of the benefits is that patients are more easily able to apply the concepts during the course of the day for self-management of scoliosis.
Dr. Weiss is also the creator of the Gensingen Brace®. This Chêneau-style brace offers benefits other scoliosis braces do not. It is an asymmetric, CAD/CAM brace that offers patients the potential for improved posture, easier wearability and Cobb angle improvement. The Gensingen Brace® is the only Schroth Method compatible brace endorsed by the Schroth family.
Board members contributing to the series include Dr. Marc Moramarco, US; Maksym Borysov, Ukraine; Shu Yan Ng, Hong Kong; Sang Gil Lee, Korea and Xiaofeng Nan, China; Tatiana Mogilyantseva, Russia and Dr. Hans-Rudolf Weiss, Germany. Josette Bettany-Saltikov of the UK also contributed as well as several members of Dr. Moramarco's team in the US.
Topics include exercise rehabilitation for AIS, postural re-education, pulmonary function, early intervention for mild scoliosis, asymmetric bracing benefits, considerations for congenital scoliosis and evidence for conservative scoliosis treatment. Papers are to be printed in Vol. 12 of Current Pediatric Reviews.
Dr. Marc Moramarco is a contributor on several of the soon-to-be-published papers. He is a long-time Schroth Best Practice® provider and his relationship with Dr. Weiss and his late mother, Christa Lehnert-Schroth, dates back to 2002 when Dr. Moramarco took his own adolescent daughter to Germany to learn the Schroth method. He is currently a Schroth Best Practice® Advanced Instructor and the provider of the Gensingen Brace® in North America. His scoliosis treatment facility is located near Boston and is a full-service center for conservative scoliosis care.