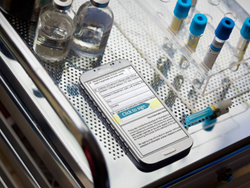 More importantly, this gives people an opportunity to bring their specific questions to an e-signature expert and an organization that uses the technology successfully
CHATTANOOGA,Tenn. (PRWEB) November 25, 2015
SIGNiX, the leading provider of cloud-based Independent E-Signature™ solutions, announced today that they will host a free webinar featuring Matt Belsante with Sarah Cannon Research Institute on Tuesday, Dec. 1 to educate organizations on how they can use e-signatures to streamline document turnaround with a dramatic financial impact.
The webinar will feature interactive discussions on the different types of e-signatures, identity authentication measures and other security-related technology for organizations in highly regulated industries—like life sciences and healthcare. The program will also feature a detailed case study on how this leading clinical research site reduced the time it took to sign clinical trial documents by 94 percent and saved more than $225,000 annually.
The webinar will begin at 1:00 p.m. EST. Speakers include Matt Belsante with Sarah Cannon Research Institute and John Harris, SIGNiX's senior vice president of product management.
The presenters will lead participants through:
•A detailed case study in how a clinical research organization reduced the time to on-board physicians into clinical trials by 94 percent—while saving an estimated $225,000 in paper-related costs annually
•A step-by-step explanation of how e-signatures benefit life sciences and healthcare companies
•Roundtable discussions on specific needs and practical takeaways for adopting e-signatures and digital workflows
"Most organizations know that digital workflows should be in their future. This webinar will allow them to get a better understanding of how e-signatures play a pivotal role in this process—and how to adopt them while being mindful of industry regulations like 21 CFR Part 11 and HIPAA," said Jay Jumper, CEO of SIGNiX. "More importantly, this gives people an opportunity to bring their specific questions to an e-signature expert and an organization that uses the technology successfully."
To register for the free webinar, visit http://www.signix.com/webinar-scrs-formula-one-study-start-up.
About SIGNiX:
SIGNiX, the most trusted name in Independent E-Signatures™, makes signing documents online safe and secure with comprehensive legal evidence permanently embedded in each document to eliminate any dependence upon SIGNiX. The company's cloud-based service uses patented technology to give businesses and organizations the most secure and legally defensible e-signatures available at a fraction of the cost of wet ink signatures. SIGNiX's products help the world's leading companies become more efficient, decrease risk and boost profits. For more information, visit http://www.signix.com. You can also follow up on Twitter @signixsolutions, LinkedIn, Facebook and Instagram.