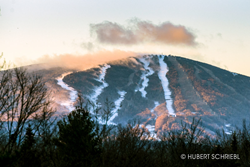 STRATTON MOUNTAIN, VT (PRWEB) November 24, 2015
Stratton Mountain will open for top-to-bottom skiing and riding on Saturday, November 28 with at least 5 trails ranging from novice to intermediate terrain. Stratton snowmakers took advantage of the window of cold weather and fired up over 250 HKD snowguns Sunday evening when the temperatures dipped as low as 12 degrees and have run at full capacity for over 24 hours straight.
Skiers will make their first turns of the season on Black Bear, Old No. 8, Runaway, Lower Tamarack and Village Walk. Park enthusiasts can jib on a boxes and rails located on Village Walk. The Gondola, Ursa and Cub Carpet with spin 9AM-3:30PM.
Opening weekend celebrations include live music in the newly renovated Base Lodge, tree lighting ceremony in the Village, and more. For the most up-to-date trails and conditions report, visit stratton.com/snowreport.